Dubai and beyond – That's exactly what a UAE holiday plan is based on. Undoubtedly, one will not ignore Dubai on a UAE holiday, but venture beyond the dazzling futuristic city and one can discover a treasure trove of experiences and adventures. UAE places to visit are made up of seven charming emirates and each has something unique to offer to UAE visitors. The country seamlessly fuses modern and cultural elements and offers some of the most jaw-dropping attractions in the world. Every year, something brand new pops up in UAE, yet several places in the country remain top favorites among its visitors. Take a look at these best things to do and the top 10 places to visit in UAE on a Middle Eastern leisure vacation: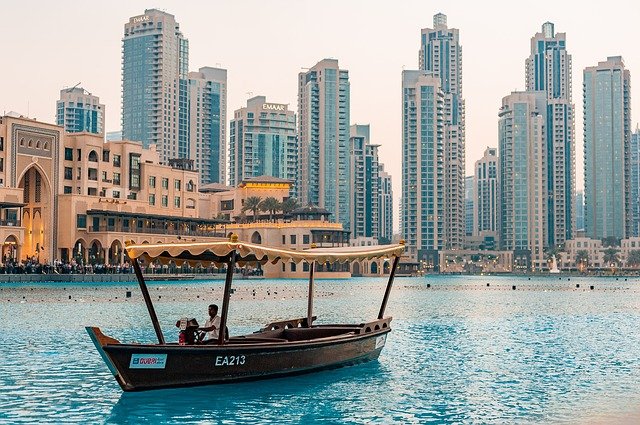 Downtown Dubai:
Dubai is unmissable and no wonder downtown Dubai is listed amongst one of the top places to visit in the UAE. Anyone traveling to UAE will make sure to get a glimpse of this larger-than-life city. In this emirate, Downtown Dubai is one of the prominent and popular places to visit. Most Dubai tours will certainly include a trip to Downtown Dubai. The major highlight of this area is that you will find the city's finest landmarks- BurjKhalifa, Dubai Fountain, and Dubai Mall all within walking distance. Tagged as the tallest free-standing structure in the world, the unveiling of BurjKhalifa shattered many records or created new ones. This gleaming tower dominates Downtown Dubai's city skyline and is worth the view. The panorama of the city from its observatory decks is one of the finest aerial views of Dubai you will ever witness. Dubai Fountain enhances the charisma of BurjKhalifa and together they are one of the most-visited places in Dubai. Dubai Mall needs a standalone mention as this attraction is a mini destination in itself. The world's largest shopping mall by total land area is brimming with unique recreational experiences apart from shopping such as Dubai Aquarium and Underwater Zoo, VR Park, KidZania, and Dubai Ice Rink.

Yas Island, Abu Dhabi
Let's move to Dubai's neighboring emirate and the next most sought-after emirate by travelers – Abu Dhabi. The capital city of UAE captured the attention of globetrotters when it unveiled an assortment of exciting attractions and theme parks. Thus, emerged a brand new adventure destination in Abu Dhabi -Yas Island. Nestled within the city of Abu Dhabi, Yas Island transformed into a leisure destination with the opening of exciting theme parks. The island is home to the world's first-ever Ferrari branded theme park – Ferrari World Abu Dhabi, Middle Easts' first Warner Bros. theme park – Warner Bros. World Abu Dhabi, and one of the finest water parks in UAE -Yas Water World. Since the opening of these three theme parks, Abu Dhabi has swiftly gained the reputation of a family destination and finds itself inching closer to Dubai's extraordinary appeal to family holidaymakers.
Jebel Jais, Ras Al Khaimah
For nature and adventure lovers, Ras Al Khaimah brings to you an outdoor experience unlike any other in UAE. Set forth to Jebel Jais- UAE's tallest mountain peak and you encounter some of the finest nature adventures to enjoy. Jebel Jaisoffers the world's longest ziplining activity that lets you glide above its rugged terrain at a speed of 150 km/h on a 9291 feet long zipline cable. It also has a mountain climbing Via Ferrata route, various magnificent viewpoints to enjoy the panoramic scenery, hiking trails, and adventure obstacle course – Sky Maze. This fascinating place is a rage among adventure junkies and those who would love to enjoy one of the off-beaten tourist attractions in the UAE trip.
Al Ain, Abu Dhabi
Tagged as the garden city of Abu Dhabi, Al Ain is a quaint township located on the eastern side of the emirate. The township is a refreshing change from the modern settings and bustling city life of Abu Dhabi. Teeming with tranquil oasis, palm groves, natural springs, and reminiscent of the ancient Bedouin era, Al Ain offers a pleasant excursion to get in touch with UAE's wilderness and historic heritage. Located around 90 minutes away from Abu Dhabi city, Al Aingained the title of UNESCO World Heritage site for being one of the oldest settlements in the UAE and for its impressive preservation of historic forts and other archeological remnants. Al-Ain is one of the charming excursions and tourist attractions of UAE that you must add to your itinerary.
Jebel Hafeet
For the free-spirited who love long drives, Jebel Hafeet is one of the best places to visit in the UAE. The winding routes through rugged landscapes lead to some of the most incredible views of UAE, Jebel Hafeet is another great place for an idyllic nature adventure. Located on the outskirts of Al Ain, this dramatic landscape offers solace to those wanting time away from the daily settings of the modern lifestyle. Jebel Hafeet is perfect for outdoor day tours, hiking, and trekking adventures.
Ajman Beaches
Of all the emirates of UAE, Ajman remains unmentioned most of the time. However, the smallest emirate in the UAE has a pristine shoreline and the finest beaches in the country. Ajman's alluring beaches are also the reason for high-end hotel chains to set up their luxury properties in this emirate and is quickly termed to be the new luxury vacation destination of the UAE. Ajman's tranquil beaches such as Al Zorah Beach and Al Hamriya Beach are ideal to relax amid beautiful sunsets sceneries and natural splendor. These are perfect for blissful UAE vacations.
Palm Jumeirah, Dubai
A man-made marvel that no other city has managed to pull off immaculately, Palm Jumeirah, Dubai is one of the feats of impossible things that Dubai made into reality. Presently, Palm Jumeirah is a happening hub for adventure sports, recreational stays, and chic fine dining and shopping experiences. Shaped like a palm tree, this artificial archipelago is home to one of the finest luxury resorts in the world – Atlantis the Palm and one of the best water parks in UAE -Aquaventurewater park. Recently, Dubai broke another world record of having the biggest water fountain in the world by unveiling Palm Fountains in 2020. For thrill-seekers, the island is a famous scenic drop zone for skydiving experiences. If you are looking for the ultimate luxury stay with a touch of adventure amid sweeping views of the Persian Gulf, Palm Jumeirah is the perfect place for you.
Louvre Abu Dhabi
The first Louvre museum to set its foot ashore Europe's borders, Louvre Abu Dhabi is a fine mélange of Western and Middle Eastern elements. Recently opened, Louvre Abu Dhabi has instantly grasped the attention of millions of Abu Dhabi visitors within no time. The design and architecture are worth marvelling as the concept of a ' museum city in the sea' created by renowned architect Jean Nouvel transformed into a tangible wonder for visitors to explore. Inside Louvre Abu Dhabi, the play of sunshine filtering through the mesh-like canopy offers a cool and calming aura. Art lovers can take the opportunity to view some of the finest works of French and other European artists that are put on display in the museum's quaint galleries.
Dubai Marina
Dubai is a destination of man-made wonders. Another finest artificial creations of innovative minds is the Dubai Marina – an artificial canal and fascinating city created around it. It is a leisure precinct with a myriad of stylish dining options such as a rooftop, waterfront, alfresco restaurants, and even lavish Dhow cruise dinner experiences. It also consists of the world's fastest zipline experience across the water canal. Dubai Marina is the best spot to enjoy Dubai in style, explore sophisticated leisure, and splurge on yacht cruises and posh waterside fine dining experiences. All these reasons also make Dubai Marina one of the best places to see in the UAE.
Arabian Deserts- Dubai and Abu Dhabi
Lastly, a journey to UAE tourist attractions would not feel complete if you miss a visit to the sprawling Arabian deserts. Take a serene drive to the borders of Dubai or Abu Dhabi and drive deep into the golden expanse of the Arabian desert. A desert safari tour is a great way to explore the tranquil ambiance of the vast golden dunes and also enjoy some adventure activities such as sandboarding, dune bashing, camel riding, and quad biking which you can seldom experience in any other destination. The evenings are gorgeous with some of the best sundowner experiences you will ever witness in your life. Desert experiences in Abu Dhabi and Dubai come with plenty of options such as morning tours, hot air ballooning rides, camel trekking and falconry shows, shisha and BBQ Arabian dinner nights, and even overnight camping experiences. Choose the one that suits the best for your holiday type for an amazing UAE desert experience.
What's next?
Whether you are looking for the best places to visit in the UAE with family and kids or top things to do in the UAE, the above travel guide covers everything. Once you know what to do in UAE, you can plan your journey with total enthusiasm. If you are looking for top things to do in Dubai then don't forget to check out our other travel guides.