Are you a traveler? Or Do you like traveling? While traveling, you might want to keep all the memories of the places you have been to. Pondering to buy a camera? With the use of smartphones to take unlimited photos, the question arises should I buy camera for travel? Yes, it is worth purchasing a camera when traveling.
With the camera it is possible to get the best pictures and the camera takes less storage but quality pictures compared to our smartphones today. With the help of the lenses, you can take distant pictures in clear quality whereas smartphones click pictures only after the image is zoomed.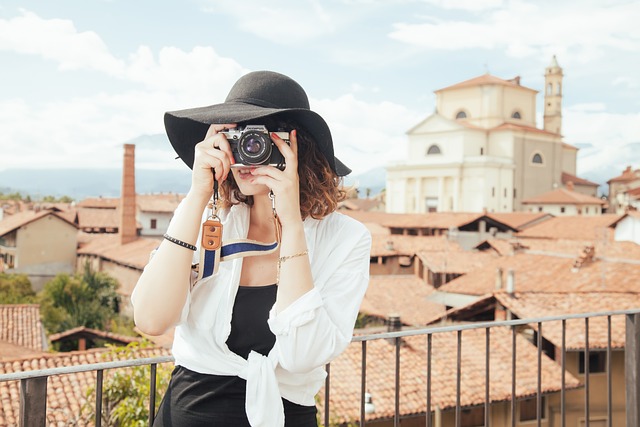 Is buying Camera for travel worth it?
Being a photographer, you must be wondering if is it worth buying a travel camera. Simply No, because you can click pictures using your smartphone. But if you want to click the best quality pictures that can be edited, and gives you zoom quality, then certainly yes, you should buy a camera for travel. If you want to click professional pictures then you should buy a travel camera. Even if you enjoy traveling and keeping memories, it all depends on your needs and the money required.
Should I buy a travel camera?
The answer depends on various factors which should be considered before buying a camera for travel. Here answering all your questions to help you out.
Should I buy a Camera for Travel?
In this 21st century, smartphone cameras are worth clicking pictures when traveling. But yes, they do not give better quality than a DSLR camera, which is specifically designed to click pictures with various effects and required adjustments. The best travel cameras will produce marvelous pictures which you will cherish at any time in life.
Our Smartphones can cause problems at times due to many unavoidable situations. A Camera used for travel will have a thick rope that can be worn around the neck. Adjustments are also possible as per our comfort.
Digital pictures do not take up additional space in our bags, thus we can carry as many photos as when we travel.
Should I buy Used or New Travel Camera?
Travel & Camera are dependent on each other and helps us to make the best memories. Imagine you see your picture with family in your old photos and how happy you would be looking at them and showing them to others.
You must be hesitant to decide whether is it worth buying a used camera for travel or is it worth buying a new travel camera.
Is it worth buying a used travel camera?
Some of the major benefits to buy a used camera are that you get a genuine resale value, and you don't have to pay much. You can buy a used camera from photography stores that have some good reviews and check the warranty, this will help you to purchase exactly the product you wanted. The best part of buying a used camera is that you save. Every digital camera now produces high-quality pictures. Purchasing a used camera will give you a third-party warranty for a second-hand product. A used one will help you save money as a high-end camera will cost more. The main feature even when choosing to buy a used camera the image quality, sensor size, manual control, and optical zoom.
Is it Worth Buying a New camera for travel?
The Camera body is an important part of the device. Yes, it is worth having your travel camera. If the body drives the snaps off, you will lose the value of the camera. Buying a new camera when traveling that you are not solely depending on your phone to click pictures. Digital pictures do not take up space in the backpacks, as traveling takes up a lot of space in your bags for other required stuff. A good quality new camera will last for many years. Also if you are planning to take pictures or videos for your social networks it is good to take pictures from a camera. You can even edit images with high-end cameras that give various formats to save pictures or videos.
How to Buy Cheap Travel Camera?
If you are planning to buy the best camera under a budget it should be compact or front camera. These cameras offer great features and are more affordable and portable. These are mostlyare light weighted and helpful when traveling. There are many features to consider when buying cheap travel cameras, whether old or new like the purpose of your buying one, the size of the camera, resolution, upgrades, modes, and the price of the camera.
Ensure that your travel camera is lightweight, small, easy to use, and available for multiple features. Compact cameras are pocket friendly will not weigh you down and are also easy to use.
How does Camera Phone differ from Camera for Travel?
Today, mostly all digital cameras produce high-quality pictures. The same picture quality will differ if the pictures are taken from the phone. Your purpose will decide what is better either the camera or the phone. In general, if you have a phone that gives you quality pictures you can travel. On the other hand, multitasking will be easy using mobile phones which will make this more economical than digital cameras.
How do you decide between a Phone or a Camera?
Every traveler wants good pictures, but things get heavy if they have to travel with a heavy camera. It becomes difficult to decide if they should travel with a heavy camera or free up some space in the mobile to get the best memories of their travel. Few things you can keep in mind when choosing adigital cameraor mobile phone for photography.
What memories do you want to save?
In recent years, mobile phones have advanced so much that image quality competes with the best travel action cameras. The first thing that should come to your mind is the purpose for which you will be clicking pictures. You may want to share this with your friends or post it on social media. If you are an aspiring content creator, and you want numerous likes from the audience with the images you have clicked. Or you may want to post the clicked shots for some professional projects. Answers to the above questions will scale you towards a straight answer.
What type of trip you will take photos of?
Every travel will be different and there is no thumb rule of what type of gear will be best for a certain trip. You will get your answer from the itinerary you choose. It also depends on the weather, destination and the adventures you will be doing through the journey will help you decide your equipment.
Will it be worth it to travel with a camera gear?
Think about the means of transportation you will be using during your travel, the size, and the weight of the camera. This can be difficult at times. If you are going to travel across the world then the weight and size of the camera should be considered, but if you are planning to visit the beach or go for a family picnic, the size and weight of the camera should not bother you.
What type of quality do you require?
Recent smartphones deliverhigh-end quality pictures and videos. Many times we won't be able to answer if the particular picture is taken from a camera or a phone. But some functions like grain, and sound recording will be much better on a digital camera.
What level of performance is required?
Whether you are using a phone or a camera, there are many things to be considered when the question arises of performance. A camera's stabilization has now been improved using 5-axis stabilization built-in that helps you to zoom, take close-ups and you can also take night pictures with great quality. But if you want to go for manual shooting, when filming want to play with the focus, open the diaphragm wide, and choose your shutter speed you should opt for a camera. With a phone, you will not be able to take pictures in low light.
What type of format is required?
Smartphones and digital cameras both allow you to take pictures in every format required. But if you want to click photos for social media like Tiktok, you will find that it is comfortable to click using the smartphone if required in vertical format, as it becomes difficult for a camera to turn 90 degrees.
Choosing the right lenses and the accessories required?
If you are in search of an artisan look, you don't need to think twice. Just select a camera having an interchangeable lens. The bigger the device, the bigger will be its accessories. If you are a photographer you must be using a tripod and a stabilizer. All these accessory sizes and weights should be considered when choosing the best travel camera.
Bottom Line
Now you must have concluded if buying a camera for travel is worth it. There is not a single camera that will be perfect for everything.
Don't forget to browse through our other travel guides to get more such valuable information.