Maui, known as the "Valley Isle," is a tropical paradise located in the heart of the Hawaiian archipelago. Renowned for its stunning landscapes, pristine beaches, and diverse culture, it's no wonder that Maui has become a dream destination for travelers.
However, to make the most of your experience, choosing the right place to stay is crucial. Explore the following top areas to stay in Maui, if you are in the dilemma of where to stay in Maui.
Best Places To Stay in Maui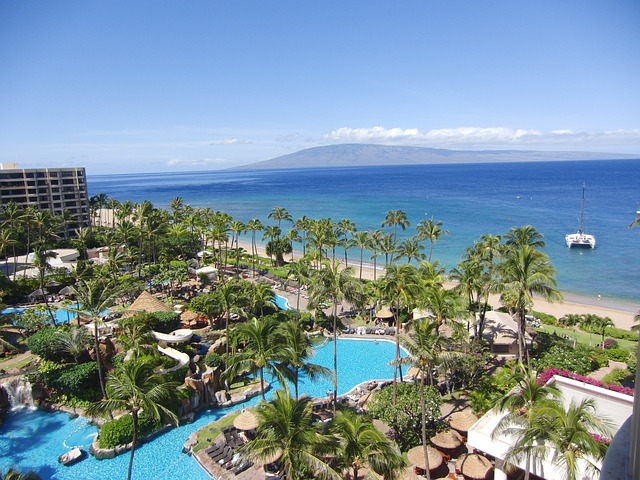 1. Lahaina
Located on the northwest coast of Maui, Lahaina is a charming and historic town that was once the capital of the Hawaiian Kingdom. Today, it attracts visitors with its rich cultural heritage, vibrant art scene, and delightful waterfront.
Lahaina allows you to immerse yourself in the island's history, with plenty of fascinating sites to explore, such as the Baldwin Home Museum, the Lahaina Banyan Court Park, and the Wo Hing Museum. Accommodations in Lahaina range from luxury resorts to cozy bed and breakfasts, catering to various budgets. 
Front Street, the town's main thoroughfare, is lined with shops, restaurants, and art galleries, offering a plethora of entertainment options, including live music and hula shows. Lahaina is one of the best places to stay in Maui and an excellent starting point for various excursions, such as whale-watching tours during the winter months and snorkeling trips to nearby Molokini Crater.
2. Wailea
For those seeking a more upscale and tranquil retreat, Wailea is the perfect choice. Situated on the sunny south shore of Maui, this upscale resort community boasts some of the island's most luxurious accommodations and pristine beaches.
You can expect world-class amenities, championship golf courses, and exclusive spas in Wailea. Wailea's beautiful shoreline is dotted with top-notch resorts, many of which offer stunning ocean views and direct beach access.
The crescent-shaped Wailea Beach and the stunning Makena Beach State Park are particularly popular for sunbathing, swimming, and snorkeling. Additionally, the nearby Ahihi-Kinau Natural Area Reserve provides opportunities for adventurous travelers to explore unique underwater lava formations and marine life. If you are confused about where to stay in Maui, the best place is Wailea.
3. Kihei
If you're looking for a more budget-friendly option without compromising on the Maui experience, Kihei is an excellent alternative. Situated just south of Wailea, Kihei offers a laid-back vibe, an array of vacation rentals, and easy access to numerous beautiful beaches.
The beaches in Kihei are perfect for swimming and sunbathing, and some even provide great opportunities for water activities like windsurfing and paddleboarding. Kihei also has a variety of dining options, from local eateries serving plate lunches to international cuisine.
Kalama Beach Park is a popular spot for picnicking, and the town also hosts a weekly craft fair where you can find unique souvenirs. Kihei is considered one of the cheapest places to stay in Maui.
4. Paia
On Maui's north shore, you'll find the charming town of Paia, a haven for surfers, artists, and those seeking a bohemian atmosphere. This eclectic community exudes a unique blend of Hawaiian heritage and contemporary arts, with galleries and boutique shops on the streets.
Accommodations in Paia include cozy inns and vacation rentals, making it an ideal choice for travelers looking for a more intimate and authentic experience. Baldwin Beach, located just outside Paia, is a local favorite for swimming and picnicking.
Moreover, Paia serves as a gateway to the famous Road to Hana, a breathtaking scenic drive that winds through lush rainforests, cascading waterfalls, and scenic lookout points.
5. Hana
For the ultimate escape from the hustle and bustle of modern life, venture to the remote eastern tip of Maui, where you'll find the serene town of Hana. This idyllic hideaway offers seclusion and a chance to disconnect from the world, immersing yourself in the island's untouched natural beauty. Ultimately, this makes Hana, one of the best areas to stay in Maui.
Accommodations in Hana range from charming bed and breakfasts to upscale resorts, all offering an authentic experience away from the crowds. While in Hana, don't miss the opportunity to explore the surrounding lush rainforests, hike to the stunning Waimoku Falls in the nearby Haleakalā National Park, and visit the famous Seven Sacred Pools (Ohe'o Gulch).
Best Places for Couples to Stay in Maui
Some destinations in Maui can rival the breathtaking beauty and allure when it comes to couples. This enchanting island in Hawaii offers couples a dreamy escape, combining lush landscapes, pristine beaches, and a warm tropical ambiance. Try the below places if you are a couple.
1. Travaasa Hana
Nestled amidst the lush rainforests and dramatic cliffs of the Hana coast, Travaasa Hana is a secluded paradise perfect for couples seeking privacy and tranquility. This luxurious resort offers charming bungalows and cottages that provide stunning ocean views or tropical garden settings. This is one of the best 5-star resorts in Maui.
With no televisions or alarm clocks, Travaasa Hana encourages guests to connect with nature and each other. Stroll hand-in-hand along the black sand beaches, indulge in rejuvenating spa treatments, and savor delectable farm-to-table cuisine at the resort's restaurant.
2. Four Seasons Resort Maui at Wailea
Indulge in opulence at the Four Seasons Resort Maui at Wailea, an exquisite oceanfront property that epitomizes luxury. Unwind in lavish suites with private lanais overlooking the Pacific Ocean, where you can witness awe-inspiring sunsets with your loved one.
The resort boasts impeccable amenities, including three pools, an adults-only serenity pool, and a variety of dining experiences, ensuring that you have everything you need for a romantic and memorable stay.
3. Montage Kapalua Bay
For couples seeking a blend of luxury and intimacy, Montage Kapalua Bay offers an elegant retreat in the stunning Kapalua area. This oceanfront resort provides spacious and beautifully appointed residential-style accommodations, ranging from one to four bedrooms, each with a fully equipped kitchen.
Rekindle romance in Montage Kapalua Bay which is one of the best places to stay in Maui Hawaii. Enjoy the moonlit beach walks, world-class golfing, and relax in the renowned Spa Montage, where a couples massage will enhance your sense of togetherness.
4. Andaz Maui at Wailea Resort
Situated on the picturesque Mokapu Beach, Andaz Maui at Wailea Resort is a modern and chic destination for couples looking for a contemporary island experience. The resort's ocean-facing rooms and suites feature minimalist Hawaiian-inspired décor and private lanais, making it an ideal spot to savor morning coffee or sunset cocktails together.
The resort's relaxed atmosphere encourages guests to explore the island at their own pace and create cherished moments to last a lifetime.
5. Hotel Wailea
Exclusively for adults, Hotel Wailea offers an intimate and romantic ambiance that makes it one of the perfect romantic places to stay in Maui for couples. Surrounded by lush gardens and offering breathtaking ocean views, the all-suite hotel provides a sense of seclusion and romance. The poolside cabanas, candlelit dinners, and personalized service elevate the romance quotient, ensuring an unforgettable stay.
6. Lumeria Maui
Embrace the tranquility of upcountry Maui at Lumeria Maui, a restored historic retreat that promotes wellness and mindfulness. Couples can participate in yoga and meditation classes, explore the property's organic farm, and enjoy locally sourced meals. The serene atmosphere and lush gardens provide an idyllic setting for relaxation and rejuvenation with your partner.
7. Lahaina Inn
For couples seeking a taste of history and charm, the Lahaina Inn offers a unique experience. This historic inn, located in the heart of Lahaina, exudes old-world elegance with its vintage decor and colonial architecture.
The inn's central location allows couples to explore Lahaina's vibrant art scene, quaint shops, and delightful restaurants, all within walking distance from their cozy room. Never miss staying in Lahaina Inn, Maui's best place to stay.
Cheapest Places To Stay in Maui
Hostels and Guest Houses: Maui has a few hostels scattered across the island, with locations such as Lahaina, Wailuku, and Kihei. You can expect to find comfortable communal areas, kitchen facilities, and sometimes even organized activities. Guesthouses, on the other hand, are more common in local neighborhoods.
Vacation Rentals and Airbnb: Vacation rentals and Airbnb properties offer a cost-effective alternative to traditional hotels. They range from budget studio apartments to cozy beachfront cottages, allowing travelers to experience Maui like a local. One advantage of vacation rentals is the option to cook your meals, saving money on dining out.
Campgrounds: For the adventurous and nature-loving traveler, Maui offers several campgrounds, the perfect and unique places to stay in Maui for cheap. Camping not only saves money but also provides a unique experience of sleeping under the stars surrounded by Maui's awe-inspiring natural beauty. Two popular campgrounds on Maui are the Hosmer Grove Campground in Haleakala National Park and the Camp Olowalu located on the western coast.
To Conclude Accommodation in Maui
Maui is a place of diverse beauty, from its pristine beaches and lush rainforests to its historic towns and luxury resorts. Each area on the island offers a unique experience for the travelers. Whether you seek adventure, relaxation, or cultural immersion, Maui has it all.
Consider your priorities and choose the best city to stay in Maui to ensure an unforgettable and magical experience on the Valley Isle. Check our other travel guides to know about top things to do in Maui.