New Zealand is gifted with spectacular views for all kinds of visitors in different forms and fun things to do. This island nation in the southwest part of the Pacific Ocean certainly has plenty to give from frozen glaciers, beautiful beaches, and beautiful movie backdrops to whale watching and divine wine drinking. Not only because of its incredible scenery, welcoming people, and exotic eats. Whether you are looking for the top 10 places to visit in New Zealand North Island or the best places to visit in New Zealand South Island, the country has got everything to satisfy your traveling interest.
To visit the shooting places of the film Lord of the Rings, thousands of people travel out to New Zealand every year. Not sure where your adventures will start? Begin with the following tourist attractions in New Zealand. Here we have listed some of the top places to visit in New Zealand to make your tour memorable: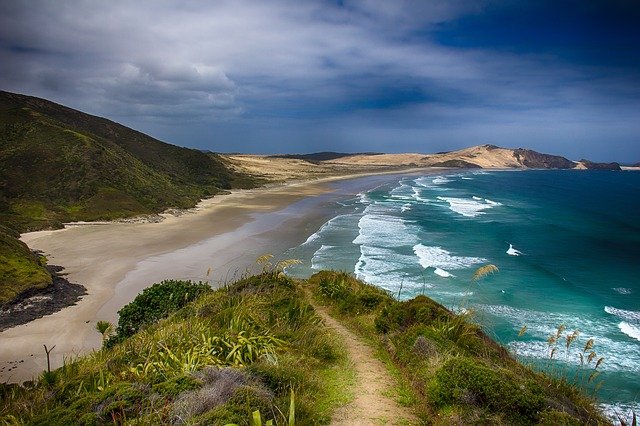 Auckland
Auckland is the biggest city in New Zealand's North Island. All the massive things you can do in this city, its immense size, comes with it. Significant sporting events, concerts, music festivals, fun outdoor adventures like volcano climbing, or island relaxation are some of it. Luxurious shopping and world-class dining are some more stuff that you could do because something is always happening here. Have an incredible look at the city from mount Eden's peak. Visit K Lane, Auckland Domain, and the beaches of Mission Bay and Start exploring scenic neighborhoods like Parnell, Northcote Point, and Ponsonby. All these reasons make it one of the best places to visit in New Zealand North Island.
Christchurch
Christchurch is the biggest city in the South Island, New Zealand, located at the Canterbury Region seat. This area is renowned for its rare blend of city development and history. Christchurch has a continuous evolution that always gives locals and visitors something different. The central location has a revolutionary architecture that co-exists with a few of the country's oldest structures. Explore the scenic towns around Canterbury, and then go on excitement-seeking trips or zen-like descends. Avon River crosses the city with a natural landscape. During your stay, this tremendous metropolitan area will get something unique to do with you. No wonder, it is one of the unique places to visit in New Zealand South Island that you must add to your itinerary.
Hamilton
Hamilton is the capital of the Waikato region and is situated in New Zealand's North Island. This city has places where visitors can dine, have fun, explore, and relax. Walk along street strips lined with quaint restaurants and cafes. Visit history-rich museums, party at music festivals overnight, catch a cricket game or rugby, or admire nature's incredible glory on a boat ride. Hamilton is no stranger to activities that can excite tourists and locals alike. Thousands of visitors are attracted to its beauty from all over the world, and perhaps you will love it as much as they do!
Queenstown
In Otago, on New Zealand's South Island, Queenstown is a beach resort. It is formed on the ground by glaciers, rivers, lakes, and creative locals and visitors from far vast lands have created what it is today. Queenstown is made up of charming villages where you can immerse yourself as a local and learn something or two about having fun. If you're in for an excitement-kicking adventure, an excellent family time, a complete decadence in nature, or an unforgettable gastronomic experience, discover what this side of New Zealand places to visit prepared to entertain you.
Rotorua
Rotorua is a paradise for Travellers who want to explore the wild and explore nature. Located in New Zealand's Bay of Plenty area, this city is surrounded by unique natural environments and exotic geothermal ecosystems that are ideal for adventure lovers. Go traveling in the countryside, climb mountains, explore the forest or relax in natural spas-these should not be missed by the landscape-lover in you. Not only is this place renowned for its fantastic landscape, but also for the excellently preserved Maori culture that is present almost wherever you go. Rotorua is a journey of full immersion with a culture that has been flourishing for decades, from art forms, tribal dances, and chants to their popular geothermal events.
Kaikoura
Kaikoura provides a one-of-a-kind experience for travelers all year round, with natural wonders in the land, air, and sea. It is a seaside town known for the plentiful wildlife that it hosts on the southern part of the island. Go for whale and Bird watching, and swim with the dolphins. Immerse yourself with the native people and think about the unique Maori community for a thing or two. 'Kai' is the term for food in their language, and 'koura' implies crayfish. It is one of the popular tourist attractions of New Zealand where you can try several local dishes. So, head out for an exciting trip to Kaikoura in a beautiful environment.
Tauranga
Tauranga is a vast and fast-growing town surrounded by a stunning coastline. Go sailing, dolphin-watching, or fishing. By walking around the city, enjoy the scenic view provided by the coast. This city has many important historical sites and beautiful landscapes, such as McLaren Falls and Kaimai Mamaku Forest Park, although it is a metro center. If you are traveling with children, they will undoubtedly enjoy the bronze statues of Hairy Maclary that are straight out of Lynley Dodd's children's book. Something for all to appreciate in Tauranga. Schedule your trip to a metropolitan town accompanied by a magnificent landscape on the coastline.
Wanaka
Wanaka is a holiday resort located in the lakes of New Zealand's South Island, offering fun outdoor experiences and a fun past. Walkthrough the Gibbston Valley gold mines of the 19th century, traverse the Kawarau Gorge vineyards and look at the incredible location along the Crown Range path. Explore the downtown streets filled with trendy cafes, restaurants, and local craft stores, whether you are not much of an adventure lover. In the nearby galleries, you can also enjoy Wanaka's culture and history.
Dunedin
A rare combination of fascinating past, gorgeous scenery, and abundant wildlife is featured in Dunedin. Stroll along streets celebrating Scottish and Maori heritage and architecture in Victoria and Edwardian. Get near to the albatross colonies, sea lions, and rare, yellow-eyed penguins. Go hiking or sightseeing in the beautiful hills and harbors of Dunedin and its beautiful beaches. Currently, this part of New Zealand tourist attractions has a lot to sell to all kinds of travelers during the year. So, schedule your trip and explore this fantastic place.
Taupo
Taupo is renowned for its lakefront scenery combined with adventure activities such as fishing and jet boating, sitting near the center of North Island, New Zealand. Climb to the Huka Falls and relax in the hot springs. Check out the thermal park of Orakei Korako, which has caves and boiling pools of mud that are great for detoxing your body and relaxing your mind. Taupo provides a natural way of doing so if you are in desperate need of pleasuring.
What's Next?
Make sure to find out from this list all the popular places to visit in New Zealand. As the first nation to be embraced by the sun every day, every second you spend here, get prepared to be greeted by fantastic horizons and scenic views. Explore the rich culture of Maori, hike through the countryside, and explore the urban landscape. You will be shocked at how well each other complements these facets of New Zealand. They love nature so much, so it is all taken care of. Visit the place of coexistence of history, nature, and creative development. If you are planning to discover some other countries then don't forget to check out our Australia travel guide.
About Author: Bhagwati Writings