ILLINOIS "LAND OF THE LINCOLN" or known as the "Prairie State" is marked by forests, farmlands, rolling hills, and wetlands. Thus making it an ideal destination if you seek solace, adventure whilst providing a blend of modern architecture with its many skyscrapers. You can thus select the right blend for you as you go through the following list of best places to visit in Illinois: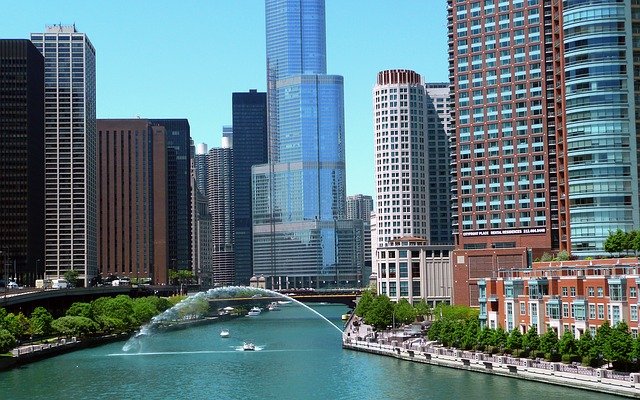 One of America's most famous locations spanning across 280,000 acres of land, having birds amongst wilderness, lakes and 10 research sites and four heritage research sites, it also provides the people with beautiful views of the tallest waterfall (20 feet) in Illinois, "Burden Falls." These further cascades down for 80 feet making it a captivating sight to behold.
Besides the falls, one can also engage in bird watching or try their hands at hunting or fishing, both being permissible here or go hiking along the 3.5-mile trail through the forest having oak and hickory forests, wetlands, swamps draped with cypress trees, wildflowers and prairies or along the 160-mile river trail and set camp within the garden of gods.
Spanning across 2,630 acres on the Illinois River bluff in LaSalle, this is one of the most famous parks and fun places to visit in Illinois with its history dating back thousands of years. You can explore an array of things to experience at the park which mainly includes everything for hiking, camping, fishing and a lodge with the largest two-sided fireplace and starved Rock Visitor Center. You can also explore the 18 canyons that are situated within the park or walk through 13 miles of trails along the park.
The Wildcat Canyon Bridge is one such stunning locations, also named as the seven wonders of Illinois by the bureau of tourism. After you've taken in and soaked up the beauty of this Illinois tourist attractions, grab a chilled beer and enjoy on the back patio of the lodge where you can spend the night or explore nearby hard-drinking towns of LaSalle.
One of the most charming Illinois places to visit with only 4,000 inhabitants, named after a mineral mined by Native Americans. Standing true to its roots, this retains its historic feel, with over 85% of the town deemed as a national historic district surrounded by rolling hills and lush valleys. The main street in Galena has French colonial, Italianate and Greek revival buildings thus being a delight for all architectural enthusiasts.
Home to almost nine civil war generals, Galena invites over one million people every year with its old market house and the historical society and museum the center of attraction. You may also visit the Vinegar Hill Lead Mine which is situated underground or the small shops that line the street. Do check-in at the DeSoto House Hotel, the oldest operating hotel in the state, thus reeking of history at every corner.
ANDERSON JAPANESE GARDENS
One of the most authentic Japanese gardens in North America, designed by Hoichi Kurisu, situated in Rockford, this 12 acre sanctuary features waterfalls, a traditional tea house, ornate bridges, rock gardens. It also has a bevy of Japanese maples, cloud pines, rhododendrons, azaleas, and magnolias.  It is here where you can just be one with nature and enjoy things at your own pace while knowing that all profits earned go towards charitable work. All these reasons make it one of the unique places to visit in Illinois that you must add in your itinerary.
This park is named after Frederick Matthiessen, a philanthropist, and industrialist from LaSalle. This park is famous for an array of unusual but beautiful rock formations. It is also combined of forests, prairies. Canyons and streams with waterfalls, a sight as seen throughout the state with colorful sandstone walls, tall bluffs and cedar trees. An abundance of plant and animal life can be viewed here, as it also has a large whitetail deer population along with flying squirrels, indigo buntings, red-tailed hawks. You can also spot bald eagles due to its proximity to the Plum Island Eagle Sanctuary.
This kind of tourist attraction of Illinois is perfect for all age groups providing leisure time for all as adults enjoy a picnic and children enjoying at the children's playground at Dells Area or the nine miles of area for mountain biking. Thus, also being an adventurous escape within its confines and becoming one of the cool places to visit in Illinois.
The riverwalk is the vision of Mayor Rahm Emanuel with the Vietnam Veterans Memorial Plaza at its heart. It also has a floating garden, a bridge, and fishing piers. The stunning architecture on the riverwalk lights up at night providing a dreamy backdrop out of a fairytale. The Riverwalk also has the river theatre, the cove, swimming hole, a zero-depth fountain, restaurants, retail space and public seating. The diversity of it all makes it an ideal place to visit any time of the day or year. No wonder, it is one of the top 10 places to visit in Chicago Illinois that you must add to your itinerary.
This is America's most picturesque statehouse, located in Springfield. This is an architectural marvel worth visiting having French renaissance revival style, it is capped with an ornate dome having a height of 361 feet. If you are looking for some of the unique tourist attractions in Illinois then come to ILLINOIS STATE CAPITOL.
This is one of the most famous lighthouses in Illinois, designated as the National Historic landmark. This is where Father Jacques Marquette landed in 1674 to visit the Native American tribes. The lighthouse is open to everyone free of charge with tours subject to weather conditions. One needs to climb the 141 steps of the lighthouse to reach the summit which provides one with breathtaking views.
This is amongst the largest Roman Catholic dioceses in the United States and the only cathedral in Chicago. This cathedral attracts thousands of visitors every week due to its rich history. It is known that across the street, Hymie Weiss was murdered. One can also take a tour called the "CHICAGO CRIME AND MOB TOUR" wherein you learn about Chicago's most notorious criminals sending a chill down your spines and one that grips you completely.
What's Next?
The beauty of Illinois cannot be experienced completely in a small list, but in addition make sure to visit the" Leaning Tower of Niles" replica of the one in Pisa, having an open-air concert in the summer or drive around the Great River Road, a scenic drive that follows the flow of Mississippi River or Grand View Drive, the world's most beautiful drive.
Take Route 66, a 301mile stretch with vintage neon signs, weird roadside attractions such as Old Joliet Prison or Route 66 Mural. Also visit the Giant City State Park, a delight for every outdoor person as it has many recreational activities like hiking, rock climbing, fishing or equestrian trails. A favorite among hiking aficionados is the Mississippi Palisades State Park with dramatic limestone caves, wooden ravines and rock climbing at Twin Sister and Indian Head, one of the popular destinations for rock climbing besideCache river wetlands where one can canoe through flooded forests with sky-scraping cypress trees over a thousand years old.
Away from the hustle- bustles, lies central Illinois, one of the most peaceful places in the whole country having historical sites such as Lincoln Home National Historic Site or the Chautauqua NationalWildlife Refuge. Thus, no matter where you travel, you'll always have adventure, serenity and a slice of history right at your feet so do not miss this gem of a state!
About Author: Payal Pal