India is the seventh-largest country by land area and the most populous democratic country located in South Asia. It is bounded by the Indian Ocean on the south, the Bay of Bengal, and the Arabian Sea on the southeast and southwest respectively. India also shares its border with Pakistan to the northwest, Nepal, Bhutan, and China to the north; and Bangladesh to the east. We are sure that you might be too confused now regarding the selection of places you should visit in India. Don't worry; we are here to help out in making better decisions. Here we have listed some of the most beautiful and best places to visit in India: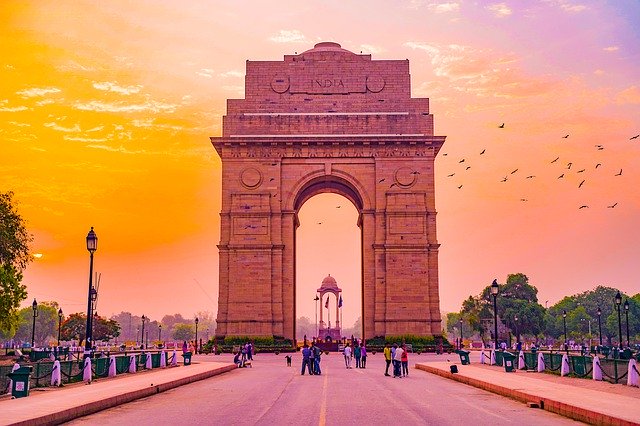 Taj Mahal, Agra
Taj Mahal is defined as the symbol to represent India and it is one of the top places to visit in North India. This monument not only attracts millions of people from India but also inspires tourists from all over the world to make a trip to Agra. It is an ivory-white marble monument situated on the southern bank of the river Yamuna. It was commissioned by the Mughal emperor Shah Jahan in the memory of his beloved wife, Mumtaz Mahal in 1632. It is also referred to as a love sign in the memory of Mumtaz Mahal.
Agra is not just terminated by the Taj Mahal. There are many such monuments, forts in Agra which should be visited. Agra Fort is also of great importance. This fort is a centuries-old red sandstone fort that was once the imperial city for a succession of many Mughal rulers. Jahangir Mahal is the most extraordinary building at Agra Fort. You can check out Khas Mahal, a place where domes are made of red sandstone and white marbles. Some other magnificent tourist places in India that should be visited are Anguri Bagh, Musamman Burj, and Diwan-e-Khas.
Red Fort, Delhi
The Red Fort is a historic fort situated in Delhi and it is one of the best tourist attractions of India. It was the place where Mughals lived for many years. This monument was named by the Mughal Emperor, Shah Jahan, for its massive enclosing walls of red sandstone. This magnificent building is named because of the red stone used in its construction. The foundation of this building was laid in 1618 when Shah Jahan, the Mughal emperor shifted to Delhi from Agra.
Apart from the Red Fort, Delhi has many popular India places to visit that you must add to your itinerary. The famous flower-shaped House of Worship, Lotus Temple, is also situated in Delhi since 1986. You should also visit other monuments like India Gate, Qutub Minar, the iron pillar made by king Ashoka and many more which are also located in Delhi. India Gate is a memorial edge created in the memories of the soldiers who died for the country. Qutub Minar is the world's tallest minaret built of rocks withstanding the height of 72.5 meters.
Gateway of India, Mumbai
It is an arch monument that was built in the early 20th century in Mumbai. It was constructed to memorize the first landing of King-Emperor George V and Queen-Empress Mary in December 1911 at Apollo port in India. This monument serves as the entrance point to India for the British Viceroys. This arched monument is made up of yellow basalt stone. Overlooking the Arabian Sea, Gateway of India stands 26m high on Mumbai Harbor.
Marine Drive of Mumbai is another amazing tourist attraction in India famous for viewing the beautiful sunset. The Chhatrapati Shivaji Maharaj Vastu Sangrahalaya Museum also tops the list of the places to be visited in Mumbai. Devotees who believe in Lord Ganesha make pilgrimages to the Shree Siddhivinayak Temple, situated in Mumbai. Haji Ali Dargah is a famous Muslim shrine in Mumbai.
Golden Temple, Amritsar
Golden Temple is known as the Jewel of Punjab, which is the holiest place for Sikhs. The building glistens in the sun and reflects into the large pool that surrounds it. The temple serves as the world's largest community kitchen, serving about 100,000 diners, lentils, and curries every day. It is a two-story building covered in real gold and surrounded by a 5.1-meter-deep manmade lake. There is a collection of holy Sikh weapons inside the Akal Takhat.
Wagah Border Ceremony is one of the top 10 places to visit in India. It is located 31-kilometers west of the city center of Amritsar. Here a curious border-closing ceremony takes place during sunset every evening.
The ridge of Shimla, Shimla
The Ridge is one of the top places to be visited in Shimla India in May. The Ridge is the location for the Summer Festival held every year in April or May. It is referred to as the bridge between Shimla's important spots such as the Mall Road, the Scandal Point, and the Lakkar Bazaar.
Kufri of Shimla is another place that must be visited. It is famous for its tranquil surroundings and breathtaking views. It is regarded as the Switzerland of East India.
Statue of Unity, Gujarat
This is a colossal statue of a man. This Indian statesman was an independence activist Vallabhbhai Patel. He was the first deputy prime minister of independent India and was highly known for his leadership in uniting princely states of India. He is known as the Iron Man of India. This statue is the world's largest statue with a height of 182 meters located at the bank of Narmada, facing Sardar Sarovar Dam.
Banks of Ganges rivers, Varanasi
Varanasi is the spiritual city that rests on the banks of the river Ganges. It is the holy place for Hinduism and is claimed to be Lord Shiva's city.
All the spiritual activities take place along the bank of the sacred Ganges River which includes:
Pilgrim Baths
Cremation ceremonies.
Golden Triangle Tourist Circuit
Jaipur
It is one of the top places for visit in Rajasthan India and is referred to as "The Paris of India". It has lavish pink buildings, City Palace, and jewelry stores galore.
The Blue City of Jodhpur is another spot of attraction. It is located on the top of the hill of Mehrangarh Fort.
City Palace Complex of Udaipur is the residence for many royal families. It is one of the best places to visit in Udaipur for exciting romance with its flower-lined streets.
Kedarnath Temple, Kedarnath
Kedarnath is the old Indian Town of Uttarakhand. Kedarnath is there at a distance of 223 kilometers from Rishikesh and very close to the source of the river Mandakini. It acts as a pilgrimage for Hindus. The beautiful scenery of the Himalayas and green pastures attracts lakhs of people every year.
Goa beaches
India is not just famous for holy sites, but it also has many incredible beaches. Goa is a small city of beaches. Some of the famous beaches are Panjim; Calangute Beach; Baga beach; Vagator beach; Colva beach; and many more. Golden sand stretching along the Arabian Sea attracts millions of people every year. If you are looking for the best places to visit in India in December then explore the beaches of Goa.
What's next?
India is known as a country of various cultures and diversity. It is filled with scenic beauty from Kashmir to Kanyakumari. Surprisingly India is one of those destinations that is part of every traveler's bucket list. Many travelers dream of going to Agra just to see the Taj Mahal but they end up exploring many more beautiful places. Several jaw-dropping landscapes of Darjeeling and Rishikesh also attract several people every year.
Beautifully designed royal monuments, forts, of cities like Jaipur, Rajasthan are another center of attraction for tourists. Beach lovers can't resist themselves from visiting the postcard-perfect beaches of Goa and Mumbai. Vrindavan is another beautiful city to visit in India; it is known for its spirituality. Overall we can say that it's impossible for you to get bored while exploring the temples, markets, and colorful streets of India's biggest urban centers.
Whether you are looking for places to visit in South India or best places to visit in India in Summer, the above guide covers everything.
About Author: Bhagwati Writings
Bhagwati Writings is a startup having a dedicated team of writers who follow their passion and show creativity towards their work. They ensure three things in content – Creativity, Expression, and Engagement. Their mission is to move ahead with this passion and leave an impression on their readers. You will find their team of writers involved in various niches – whether it is traveling, health, or technology. With their love for writing and invincible passion, they are climbing the ladder to success.