Maui, the second-largest of the Hawaiian Islands, is a true tropical paradise that captivates visitors with its stunning landscapes, warm aloha spirit, and diverse range of activities.
Known as the "Valley Isle," Maui boasts a unique blend of lush rainforests, golden beaches, and volcanic wonders that make it an ideal destination for nature enthusiasts, adventure seekers, and relaxation aficionados alike.
If you're planning a trip to Maui, the following are a few top things to do in Maui. 
What to do in Maui?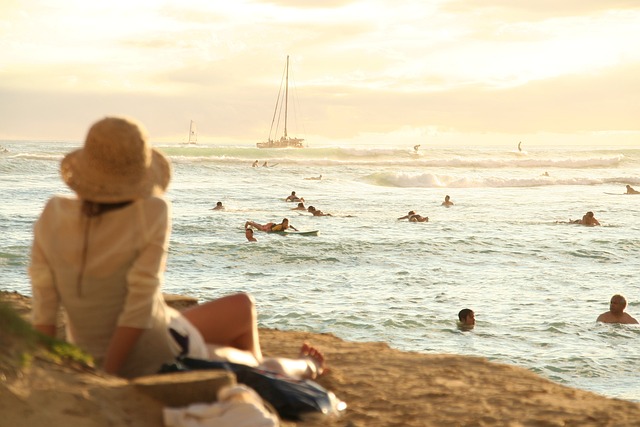 1. Explore the Road to Hana
The legendary Road to Hana is a must-do activity for anyone visiting Maui. This picturesque drive takes you along the northeastern coastline, showcasing breathtaking vistas, cascading waterfalls, and lush greenery at every turn.
The journey is an adventure in itself, with over 600 hairpin turns and more than 50 narrow bridges. Make sure to stop at the iconic spots along the way, such as the Twin Falls, Wailua Overlook, and Waianapanapa State Park, famous for its black sand beach and lava tube caves.
2. Witness the Haleakala Sunrise
Haleakala National Park is home to one of Maui's most awe-inspiring sights – the Haleakala Crater. If you are confused about what to do on Maui Island and want to experience something truly magical, wake up early and drive to the summit before dawn to catch the Haleakala sunrise.
As the first rays of the sun break over the crater's rim, the landscape transforms into a breathtaking sea of colors. It's an otherworldly experience that will leave you feeling connected to the island's natural beauty.
3. Snorkel or Dive in Molokini Crater
Maui's underwater world is just as mesmerizing as its terrestrial wonders. Molokini Crater, a partially submerged volcanic caldera located just off the island's southwestern coast, is a prime spot for snorkeling and diving.
The crystal-clear waters teem with colorful marine life, making it a snorkeler's paradise, and thus diving and snorkeling here are the best things to do in Maui. Swim alongside schools of tropical fish, spot vibrant coral formations, and if you're lucky, encounter gentle sea turtles and majestic manta rays.
4. Night Snorkeling with Manta Rays
While snorkeling is a popular activity in Maui, experiencing it at night with majestic manta rays is a surreal and unforgettable encounter. Several tour operators offer guided night snorkeling excursions, providing visitors with an opportunity to witness these graceful creatures in their natural habitat.
As you float above the dark waters, powerful spotlights illuminate the ocean floor, attracting plankton, which in turn draws in the manta rays, known for their impressive acrobatics. Observing these gentle giants gliding through the water with their massive wings is an otherworldly experience that will leave you in awe.
5. Go Whale Watching
From December to April, Maui becomes a haven for humpback whales that migrate from Alaska to breed and give birth in the warm Hawaiian waters. You can opt for a boat excursion or even spot them from various shorelines. Listening to the hauntingly beautiful whale songs and watching them breach is one of the must things to do in Maui.
6. Discover Iao Valley, State Park
Nestled in the lush West Maui Mountains, Iao Valley State Park is a verdant haven of natural beauty. The park is famous for the Iao Needle, a 1,200-foot tall green-mantled rock pinnacle that overlooks the valley. Take a stroll along the trails, learn about the area's history and significance to the Hawaiian culture, and immerse yourself in the tranquility of this picturesque setting.
7. Relax on Maui's Best Beaches
Maui boasts some of the world's most beautiful beaches, each with its unique charm. Whether you're looking for a spot to surf, sunbathe, or simply unwind, Maui has it all.
Kaanapali Beach, with its golden sands and clear waters, is a popular choice for sun-seekers and water sports enthusiasts. For a more secluded and romantic experience, head to the crescent-shaped Wailea Beach and enjoy varieties of fun things to do in Maui Wailea.
8. Visit Lavender Farms
Escape the coastal heat and venture into Maui's Upcountry, where you'll find cooler temperatures, rolling green hills, and charming towns. Stop by the Ali'i Kula Lavender Farm, where you can stroll through fields of fragrant lavender, enjoy stunning panoramic views of the island, and savor delicious lavender-infused treats. The Upcountry region offers a delightful change of pace and a chance to explore a different side of Maui.
9. Attend a Traditional Luau
No trip to Maui is complete without experiencing a traditional Hawaiian luau. These cultural events showcase Hawaiian music, hula dancing, and a delectable feast of local cuisine, including kalua pig cooked in an underground imu oven.
As the sun sets and the stars come out, immerse yourself in the enchanting tales of Hawaiian folklore and history, passed down through generations. Never miss Luau as this is one of the biggest attractions and must-do things in Maui.
10. Embark on a Helicopter Tour
To truly appreciate the majesty of Maui's landscapes, take to the skies on a helicopter tour. Fly over lush valleys, rugged coastlines, and dramatic waterfalls, including the famous Jurassic Park Falls (Manawaiopuna Falls). Helicopter tours provide a unique perspective on the island's natural wonders, offering an unforgettable experience for adventure enthusiasts and photographers alike.
11. Take a Helicopter Tour Over Molokai's Sea Cliffs
Though not directly on Maui, taking a helicopter tour over the neighboring island of Molokai is an unusual way to witness one of the tallest sea cliffs in the world. Rising dramatically from the ocean, these sea cliffs are an awe-inspiring sight.
The helicopter tour offers stunning aerial views of Molokai's remote landscapes, unspoiled valleys, and cascading waterfalls, making for a once-in-a-lifetime experience. Watching the sea cliffs is considered one of the coolest things to do on Maui.
12. Go Surfing or Stand-Up Paddleboarding
Surfing and stand-up paddleboarding (SUP) are quintessential Maui activities. The island offers a range of surf spots suitable for all skill levels, from beginners to advanced surfers. If you're new to surfing, you can take lessons at popular spots like Lahaina or Kihei. For a more serene experience, opt for SUP, gliding along calm waters and exploring hidden coves.
13. Road Cycling on the West Maui Loop
For cycling enthusiasts, the West Maui Loop offers a challenging and rewarding ride through breathtaking scenery. The loop takes you along the rugged coastline, with stunning views of the ocean and the neighboring islands.
As you navigate the winding roads, you'll encounter lush valleys, dramatic cliffs, and quaint villages, providing a unique perspective of the island's natural beauty. Cycling on the west Maui loop is one of the free things to do in Maui and you will not regret doing this.
14. Hike the Bamboo Forest
The Pipiwai Trail, located in the eastern part of Maui near Hana, takes hikers on an enchanting journey through a bamboo forest. The trail leads to the majestic Waimoku Falls, a towering 400-foot waterfall that cascades down a sheer volcanic rock wall. The hike is a moderate-level trek and offers a chance to connect with nature in a serene and magical setting.
15. Attend a Lava Viewing Tour
If Pele, the Hawaiian goddess of fire, calls to your adventurous spirit, consider taking a lava-viewing tour. Depending on the current volcanic activity, you may have the opportunity to witness molten lava as it flows into the ocean, creating a mesmerizing display of nature's raw power.
Guides with adequate knowledge take care of the safety of the travelers and explain about lava and its geological significance. The lava viewing tour may be one of the 100 things to do in Maui, but, remember, you must never miss it.
16. Snuba Diving Adventure
If you've always been intrigued by the underwater world but don't have scuba diving certification, try snuba diving! A cross between snorkeling and scuba diving, snuba allows you to explore the underwater world while being connected to an air supply on the surface. Snuba excursions in Maui offer a safe and thrilling experience, allowing you to get up close with marine life and explore vibrant coral reefs without the need for extensive training.
17. Nude Sunbathing at Little Beach
For those who dare to bare it all, Little Beach, located in Makena State Park, is a popular spot for nude sunbathing. This clothing-optional beach attracts both locals and tourists who enjoy a sense of liberation and a carefree atmosphere, and enjoy one of the amazing and unusual things to do in Maui. 
Visitors seeking an alternative beach experience can join drum circles, and fire dancing performances, and experience the unique camaraderie of this unconventional beach community.
To Conclude
Maui's allure lies not only in its traditional attractions but also in the array of extraordinary and abnormal experiences it has to offer.
From witnessing manta rays at night and hiking through bamboo forests to helicopter tours over Molokai's sea cliffs and unusual things to do in Upcountry Maui, the island opens its doors to adventurous souls seeking something out of the ordinary.
So, step off the beaten path and embrace the extraordinary in Maui.