Whenever you think of Africa, the first picture that might come to your mind are a myriad of scenery comprising the savannah grassland, the fierce carnivores, the mighty herbivores, aggressive pygmies, artistic Masai tribe, poisonous snakes, an extinct volcanic caldera, mining resources and many more. Well, standing at the threshold of the 21st century, the world looks up to this massive continent for something more than just natural resources. There is a lot of improvement in business, technology, art, and science, but the core idea that draws millions of visitors to this land is mainly the National Parks. We have researched the top 10 National parks in Africa that attract tourists and are known for their own preserved assets: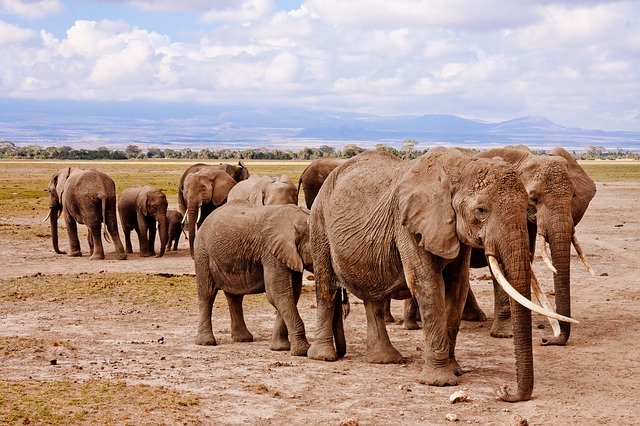 Masai Mara National Park:
Masai Mara is considered one of the most famous and best National Parks in Africa. Accessible by roadway from Nairobi, Masai Mara is the home for over 470 species of birds, mammals, and reptiles. Life is centered around on the Mara river, where you can experience the 'great migration' of animals during July – September, a phenomenon where herbivores migrate in search of sweet grass. If you are lucky, you can capture these unforgettable moments and observe hunting by carnivores and crocodiles. The wildebeest are seen following each other in a queue until they reach the border of another country. You will find all the Big 5's here – lion, elephant, rhino, leopard, and buffalo. The tourist information center will disseminate information regarding the availability of animals, their habits, and what not to do. Don't be amazed if you see a cheetah climb the bonnet of your car for a formal introduction (just kidding).
Nairobi National Park, Kenya:
The only National Park of its kind where the wildlife co-exists with the cityscape at the backdrop is the Nairobi National Park. Your chances to find long-necked giraffe competing with the Nairobi skyscrapers (only for a photoshoot), could be the most desired view to be cherished for a lifetime. Presently, the number of flora and fauna has diminished, but still, the residue species is a beautiful spectacle.
Serengeti National Park, Tanzania:
Situated in Tanzania, accessible from Arusha, is the Serengeti National Park, which is home to almost 70 larger mammals and over 500 avifauna species. Rated by UNESCO as one of the best wildlife reserves, Serengeti was protected since 1942. You will see all herbivores and carnivores here. Cheetahs are highest in number over here and are available plentiful. If you are lucky, you can cross some leopards. Meet the Masai tribe before you leave the land. You'll see the age-old technique of fire ignition, 'boma' making, tribal singing, dancing, and jumping. Lion killing is the traditional culture of a grown-up Masai and a criterion of marriage. Learn about their culture and their contribution to the freedom struggle.
Krugger National Park, South Africa:
Krugger National Park ranks as the world's best-rated game park. Krugger is massive and covers over 20,000 kilometers by area. There are over 147 species of mammals, 517 species of birds and 219 species of insects present here. You will be amazed to see the carnivores, especially lions present as packs and of course they are friendly. But, the tour guides always warn visitors not to be too generous or too close to the carnivores as their mood cannot be predicted. It is one of the best national parks in South Africa that you shouldn't miss out.
You will see elephants, buffalo, wild boar, and other big herbivores, which might threaten medium-sized vehicles. The rangers keep watch on all the vehicles so that they maintain a safe distance from the animals and also they are strict on the poachers. Like the way Masais live in Kenya, Zulu live in South Africa. Never miss a visit to the Zulu village and their traditional dance, of course. One of the main tourist attractions of Africa is eating bush meat like crocodile, ostrich, and buffalo. Earlier there giraffe and zebra meat available, but now there is a restriction on all these types of bushmeat. If you are searching for the best national parks in Southern Africa then Krugger National Park is the right option.
Ngorongoro Conservation Area, Tanzania:
Ngorongoro plains is an extinct volcanic caldera situated at Tanzania. This is a UNESCO rated site, and the beauty is simply ethereal. You will be moved away by the lush greenery of the caldera region. Masai pastures move with their herd of cows and other herbivores. Lions and other carnivores are found in the same plain might be just a distance apart. You will be surprised by the Masais walking and grazing, as they least fear the carnivores. The lions fear the Masai pastoralists as they use sharp spears to attack the carnivores if the situation demands. If time permits, you can give some time with the Masai tribe and learn about their latest development in life. Ngorongoro has spectacular greenery and typical trees; try to capture these beautiful sceneries which could later be framed for your home décor. You may reach Ngorongoro plains from Arusha, bypassing over Serengeti national park. The best site could be seeing a climbing lion, which is mainly seen near Lake Manyara.
Virunga National Park, Congo:
Situated at the Eastern part of the Albertine Rift valley of the Democratic Republic of Congo is the Virunga National Park, a UNESCO World Heritage site. Although affected by an area of war for the last 20 years, Virunga has rightly protected its wildlife by over 700 Rangers. They are protecting the gorillas, one of the endangered species at the cost of their lives. This is one of Africa's oldest and biologically diverse protected areas. You will see herds of elephant, Ugandan Kob, African bush elephants, lions, and mountain gorillas. There are many other herbivores like waterbuck, topi, common warthog, and many other species. You will get to know more about these kinds of unique Africa national parks parks from the documentary filmed on it.
Murchinson Falls National Park, Uganda:
Uganda, situated in the Eastern part of Africa, is known for breathtaking natural reserves. The key attraction of this game drive is the beautiful Murchinson falls on the river Nile. You will see a lion conservation unit, Roskilde giraffe, chimpanzee, hippos, birds, crocodiles, and many more. You can take a balloon safari and mingle with the local Boomu Women's group. As a visitor, you will enjoy tracking the chimpanzee. Murchinson is the conservation area is known for crocodiles, over 445 species of birds, and 76 species of mammals. From Kampala, you can avail a bus to the Murchinson conservation area. Uganda is widely known for the Rwenzori mountain range or the 'Mountain of Moons', which has been referred to often in novels and stories.
Hwange National Park, Zimbabwe:
Situated in the Northwest of Zimbabwe, is the Hwange National Park, one of the most reputed game reserves and a must item for your bucket list. The park has the highest diversity of mammals here. You will see lions, elephants, cheetahs, leopard, and wild dogs apart from 500 species alluring birds. There is not a lot of crowds, and you will have enough opportunity to soak up in the bush's magic.
Etosha National Park, Namibia:
Located in Namibia, South Western part of African heartland, one of the most magnificent wildlife sanctuary is Etosha National Park. You will see wildlife that congregates around waterholes. The park is equipped with hotels, viewing decks, shops, petrol stations and is said to be malaria-free. The Etosha pan was formed almost 100 million years ago, and it covers the maximum area of the entire park. The park got its present status in 1907, with great conservation efforts to restore the beasts from being wiped out due to crossfire or the so-called border war. Etosha conserves almost 114 mammal species, 340 birds, 110 reptiles, and 16 amphibians. Animals that could be seen here are the giraffe, wildebeest, hyena, cheetah, and jackal, bat eating fox, warthog, ground squirrel, and honey badger. The presence of Moringa trees amongst the savannah shrub is a beautiful spectacle.
Lake Nakuru National Park, Kenya:
Lake Nakuru is a mystic lake situated at Nakuru, Kenya, known for the efflux of flamingos during migratory season. The park has all the notable flora and fauna that amazes travelers as well. The pinkish-white flamingos with the pristine blue Lake at the background are nothing less than a heavenly view. You will find the rare progeny of Rothschild giraffe and white rhino here. Climb the baboon cliff to get the panoramic view of the Lake. You can stop at the Makalu falls picnic site to enjoy some snacks and then carry on with the game drive. Leopard is a rare sight, but you will find a pack of lions.
What's next?
Wildlife lovers around the world prefer visiting Kenya, Tanzania, and South Africa national parks. Some prefer going to Uganda, Congo, Namibia, and Zimbabwe. Convenient and economical air travel with the rest of the world is a significant factor why travelers prefer East and South Africa more than the other locations. Whenever you plan a trip to Africa, make sure you visit these National Parks that would awe you with their treasured asset, wildlife, and unique culture. As a nature lover and a curious traveler, you will love the land more than ever before.
About Author:
Sweta Chakraborty is an Amazon author and her books are being sold on the National and International platform. She is a travel freak and pens down her experience in her blog, and also some web magazines. Her travel writing has been admired and loved by those who are travel freaks. Apart from these, she writes articles in the genre of relationship, education and recipes. She would love to hear your feedback on her articles and would bring some more informative pieces for your interest.