If you believe that Singapore is only about luxury hotels, vibrant shopping malls and skyscrapers then you should visit this amazing destination to discover its untouched beauty. The city boasts several natural sightseeing locations that are worth exploring during your upcoming tour. From gardens and waterfalls to amusement parks and beaches, the city features everything that you expect from an ideal vacation destination. Check out the following guide to get a glimpse of things to do and best places to visit in Singapore: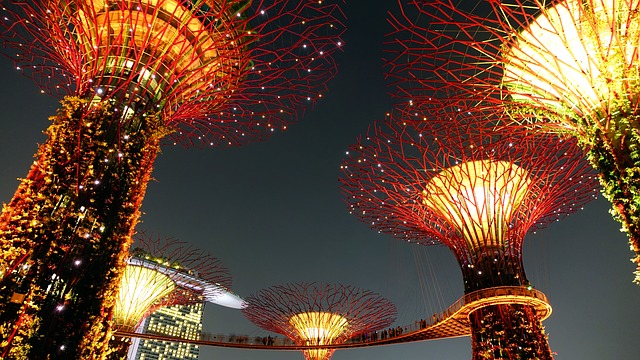 Most believe that Singapore is a concrete jungle but they get rid of this misconception when they visit places like Botanic Gardens. Here you can spot several old species of tree which have been preserved for a long time. A visit to National Orchid Garden is highly recommended if you have additional time. Some other things you can explore here include a bonsai garden, eco-lake, eco-garden and sculptures.
There can't be a better place than Singapore Flyer to experience some of the breathtaking views of Singapore city. It is nothing but an observation wheel that will take you a height of more than 160 meters. No wonder it is listed as one of the largest wheels in the Asia continent. Some of the key highlights Singapore you can get from the top include skyline, Gardens of the Bay and F1 Track.
If you are searching for one of the top places to visit in Singapore with kids then there can't be a better destination than Singapore Zoo. Here you can spot over 300 wildlife species including White Tigers, Zebras, Koalas and Giraffes. Some of the unique animal species you can spot here include raccoon dogs and polar bears. Jungle Breakfast and Splash Safari Show are some of the key activities you can consider doing here.
You may have visited the Universal Studios of different countries across the world but the one you will find in Singapore has definitely something unique. This destination is packed with a lot of excitement and fun thereby making it one of the ideal places to visit in Singapore with your kids. Adventure lovers can enjoy several thrilling rides here while peace lovers will love taking boat rides through the studio. It takes a whole day to explore key highlights of Universal Studio, so make sure you plan your itinerary accordingly.
Situated on Sentosa Island, SEA Aquarium is considered as one of the popular places to visit in Singapore for kids as well as senior citizens. It is one of the most family-friendly tourist attractions in Singapore where you can spot thousands of marine species. Here you can spot everything from bottlenose dolphins, sharks to Sting Rays. Selfie lovers will definitely love capturing some selfies here while having such unique scenes in the background.
What's next?
Singapore is recognized as one of the most after travel destinations to visit in South East Asia. The nightlife of Singapore will make every young traveler stunned while its unique natural sightseeing will encourage old travelers to extend their holiday for a few more days. If you are planning to visit some other popular countries near Singapore then don't forget to check the information mentioned on our other travel points.