Ohio, a state located in the East North Central region of the United States, with a population of nearly 11.7 million. The state is a wonderful cosmopolitan experience for travelers with an overlying escape to nature. Ohio's best cultural attractions which are Cleveland, Cincinnati, Columbus, and Dayton offers amazing shopping hubs and a full repertoire of things to do. The best of this Amish country is derived from the countryside or spend an entire day at an amusement park. The best outdoor adventure of Ohio can be found in national and state parks during spring falls. In winters, the state provides a great experience and you can try your luck out on the lakes on ice fishing. Ohio's weather is extremely pleasant and here we have listed some of the top 10 things to do in Columbus Ohio that you can experience all around the year: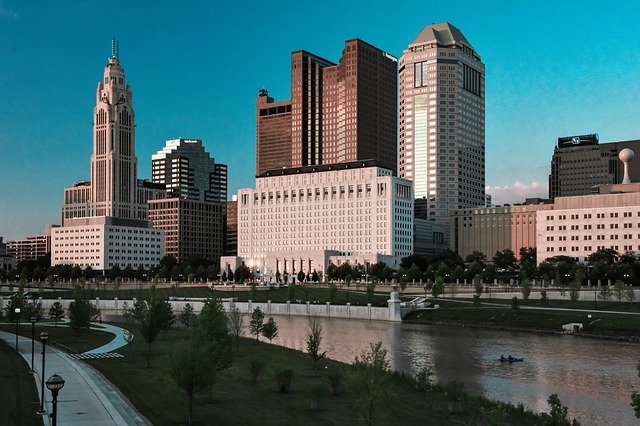 1. Take Tour of Rock and Roll Hall of Fame
Located on Cleveland's waterfront, this Rock and Roll Hall of Fame has been a pilgrimage site for those with music appreciators. The museum reflects the history of rock music which was established on 20th April 1983. This museum also offers an exceptional look when witnessed through rock and roll history and relies on decade-by-decade accordance. The museum also features some great artists from several time periods and also offers an interesting gallery during your visit to the Hall of Fame. The building has seven levels and the lower one contains this must-see gallery while the first floor offers a beautiful café, a stage where performances and events are held, and a section called, "Backstage Stories". Rock and Roll Hall of Fame is recognized as one of the most renowned structures and a visit to this place is one of the best things to do in Ohio Cleveland.
2. Witness history at National Museum of the US Air Force
Taking a tour of the National Museum is one of the top things to do in Dayton Ohio and is located 9.7km northeast of Dayton. The museum houses more than 360 aircraft for display purposes and is recognized as one of the oldest and largest military aviation in the world. The museum also draws a million visitors each year which makes it a frequently visited attraction in Ohio. The museum first opened its fourth floor with an area of 224,000 sq. foot and later expanded it to 1,120,000 sq. foot. The museum contains 70 aircraft, missiles, and space vehicles in its new galleries settled up on the fourth floor.
3. Have a Fun at Cedar point Amusement park
This 364-acre amusement park is located in Sandusky based on the Lake Erie peninsula to be established in 1870 and is considered as one of the second oldest amusement parks to be still operating in the United States. The amusement park is a perfect destination and a hangout zone during summers which has more than 17 world-class roller coasters, joyful kid's areas, and live entertainment. This also provides people and tourists with thrilling water adventure which is located adjacent to an amusement park known as Cedar Point Shores Water Park. The park provides several interesting experiences for children like a wave pool, lazy rivers, and shallow pools.
4. Try some adventure at Hocking Hills State Park
This state park is located in the hocking hills region of Hocking Country, Ohio. The park has hiking trails, rock formations, waterfalls, and caves spread in an area of 25 miles. The hiking trails are open from dawn to dusk all year round. The park also has seven separate hiking areas which are open all year round, including holidays. Hocking Hills State Park was earlier covered by the Atlantic Ocean and was found after millions of years when the ocean receded which underlined the area. The park provides 200 campsites with a full provision of electricity. The park also provides tourists with amazing attractions which contain Nature Preserves, State parks, lakes, canoeing, kayaking, boating, swimming, hunting, fishing, bird watching, archery, air tours, horse rides, train rides, and canopy tours. The park also features amazing restaurants, private inns, campgrounds, and cabins to ensure an amazing trip. The most visited place in the park is Old Man's Cave, Rock House, Cedar Falls, and Cantwell Cliffs where you can enjoy some of the unique things to do in Ohio this weekend.
5. Do some photography at Amish Country
During summers, it would be a perfect drive to witness the landscape of Amish country and see a simpler lifestyle which starts with buggies plying the twisted roads and farmers off to work at fields. Other than this, the country also provides other attractions which are to shop at handmade craft stores, heirloom furniture galleries, flea markets, and antique malls. The country specializes in making handmade wines, cheese, and chocolates which is highly enjoyed by tourists thereby making it one of the top things to do in Ohio Amish country.
6. Take your kids to Columbus Zoo and Aquarium
This non-profit zoo is located near Powell in Liberty Township and is named by the USA travel guide as the number one zoo to be located in the United States. The zoo accommodates 7,000 animals which represent 800 varies species and has a record of 2.3 million visitors annually. The zoo is currently operating in eight different regions and is also involved in operating its own conservation program and is involved in donating money to outside programs and is also involved in taken potential part in their conservation efforts. The zoo also contributed $3.3 million over the past five years to more than 70 projects in 30 countries. In addition to this, the zoo also owns 18 hole golf course known as Safari Golf Club which is spread in an area of 14 acres. Along with this, the zoo also owns Zoombezi Bay of 22.70 acres and other 406.36 acres for the zoo itself. Other than walking, the zoo provides three modes of transportations which are train, tram, and boat rides for the travelers and locals to roam around the entire zoo. If you are searching for some of the fun things to do in Ohio with kids on weekends then this is a place to be.
7. Cincinnati Museum Centre
Cincinnati museum is a multi-museum complex located inside Union Terminal and is widely known to give its visitors a huge range of historical, scientific, and educational experiences. The museum also houses theatres, traveling exhibitions, and a symphonic pipe organ which adds uniqueness to the traveler's journey. The museum also contains five different museums which are Cincinnati history museum, Cincinnati history library and archives, museum of national history and science, Robert D. Lindner Family Omnimax theatre, and Duke Energy children's museum. The museum's exclusive space is Dinosaur Hall which features skeletons and fossils which gives a glimpse of ancient times to travelers. The museum also contains collections of 1.8 million artifacts.
8. Franklin Park Conservatory and Botanical Garden
It is a botanical garden and conservatory which is located in Columbus, Ohio which is opened every day and for which a fee is charged. The conservatory contains 400 plant species which includes Bonsai Courtyard, Showhouse with seasonal displays, orchids, bonsai collections, and Palm House with more than 40 species of palms. The conservatory also held a recent seasonal butterfly exhibition which was an instant success as the exhibition features thousands of tropical butterflies flying through the Pacific Island Water Garden. These attract thousands of visitors every year and other conservatories which come together throughout the nation.
9.  Experience natural beauty at Stan Hywet Hall & Gardens, Akron
It is a historic house museum in Akron, Ohio and the estate includes gardens, a greenhouse, a carriage house, and the main mansion, which is one of the largest houses in the United States. It is one of the nation's largest historic homes which is open to the public. The museum has a 70-acre space that contains original furnishings and elegant details in five buildings and historic gardens. The outsiders can stroll through gardens, Corbin Conservatory, Gate Lodge, and Carriage House. The museum also houses an interesting and marvelous gift shop and café thereby making it one of the best things to do in Akron Ohio.
What's next?
Whether you are looking for the best things to do in Berlin Ohio, things to do in Toledo Ohio or the top things to do in Northeast Ohio, the above travel guide covers everything. Now you know what to do in Ohio, you can plan your journey with utmost enthusiasm and also explore some other tourist attractions in some other states of North America such as North Dakota.
About Author: Ritika Agarwal is an experienced content writer. She is a blogger by passion and an interior designer by profession who hail from the Coal Capital of India, Jharkhand. She spends most of her time reading, cooking and simultaneously working on her projects.