Dubai is a city of achievements. Not far from its glitzy neighborhood, sky-piercing buildings, exquisite restaurants, and indoor ski mountains, you would land in a world of Bedouins. The desert safari Dubai gives you a peek into the pre-historic lifestyle; before those tall structures were constructed and nomads traveled by camels. You can still find camels crisscrossing the desert making it look like an ancient movie scene. Visitors get to bash the dunes in 4*4 SUV, skate the dunes on board, and ride the ATV. Here, the camps are set in beautiful light, belly dancers are tapping their legs to the music, and a delicious buffet is arranged. From sun gazing to camel riding, the desert safari is an excursion that is on everyone's bucket list.
Before you venture out to one of the top things to do in Dubai, here is a quick checklist of Dubai Desert Safari tips that will help you make unforgettable memories: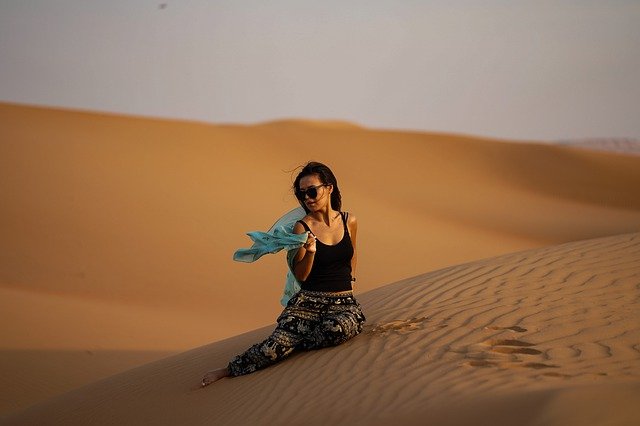 Research before you book the tour
The first thing about an entertaining desert safari is to research, browse, and select the right package. You may like floating above the sand in a hot air balloon or sleep under the starlit sky. There are wide-ranging options of Dubai desert safari you can find across the internet that will suit your mood, interest, budget, and timing. While the morning desert safari is a 2-hour tour filled with adventure, the evening safari is a 6-hour excursion that blends adventure and culture. Go, go ahead and choose what fits your bill.
Wear comfortable clothes and open shoes
Be it straddling the camels, skating the board, taking pictures, or sitting in the camp in cold evenings — to taste the Arabian entertainment effortlessly you need to put on comfortable, loose-fitting, and cotton clothes. Prefer clothes that are neutral, breathable, and adjustable for both hot, cold temperatures and plenty of dust and sun. For example, try t-shirts, tank tops, jumpsuits, skirts, trousers, capri pants, and open shoes like sandals, flip-flops. Do not wear biker shorts, tight tops or jeans, heels, or a lot of jewelry.
Protect yourself from the sun
In this expansive desert, there is no place you can escape the sun. So, if you don't want yourself baked, use sunblock or sunscreen. Get sunglasses and a hat for better protection and enjoy your tour of Dubai desert safari for a memorable experience.
As the sun sets, the temperature drops, making the evening really cold. Jackets become your best friend to shield from the nip in the air. So, bring a light jacket, sweater, scarf, or shawl to make yourself warm.
Listen carefully to instructors
In the series of wild adventures, there will be several activities that you are new to try. Before the 45-minute dune bashing, the driver will give you a few instructions that you must hear and abide by. Later, you will participate in other adventures where you must listen to your instructors carefully as it ensures both safety and fun.
Tugging a heavy bag in the desert safari of Dubai is not a very pleasant experience. You won't be able to have maximum fun in adventurous and thrilling activities. Carry only the essential items such as sunscreen, sunglasses, or scarf. Take a bottle of water and wet tissues.
If you are prone to motion sickness or illness, get medicines in your medical kit. If you are someone who feels dizzy in a vehicle even on a straight road, then don't hesitate to tell the safari service that you'd like to skip the roller-coaster dune bashing.
The sunsets and sunrise in the Dubai desert are unparalleled. You would regret the most if you don't carry a camera. You can click the most Instagrammable pictures on this golden sand. The desert gives you the most wonderful shades, the sunset view creates magic, and overall it looks truly breathtaking.
Bring some cash in case you like the souvenirs in the shops around the campsite. These might be pretty expensive but are good to take back home memories of your Dubai Desert Safari tour.
Hydrate, make new friends, and stay overnight
In all likelihood, the body would need water at frequent intervals. So, keep yourself hydrated enough. There are a lot of people, animals and birds that you can make friends with for more exposure. And in case you don't want to leave so soon, extend the evening safari by staying in the tents under the star-studded sky.
What's next?
The above-mentioned travel guide on Dubai Desert Safari will definitely help you to get the best out of your tour. Follow these tips and you can surely make your Dubai trip memorable. If you are planning to visit some other tourist attractions such as water parks in UAE then don't forget to check our other travel guides on Dubai.