Jamaica is the third-largest and beautiful island country in the Caribbean Sea spread over an area of 10,990 square kilometers. Jamaica is diverse, on the western side are the mountains of Don Figueredo, Santa Cruz, and May Day, in the center is the John Crow Mountains, and the Blue Mountains which contain the tallest mountain peak at 2256 meters lie on the east. Jamaica has two main cities, Kingston -the capital of Jamaica and business center, and Montego Bay, a major tourist attraction. Whether you are looking for things to do in Jamaica Runaway Bay or the top 10 things to do in Jamaica beaches, there is everything to satisfy your cravings.
Jamaica is rich in flora and rare animals are found here. The ecosystem ranges from limestone forests, rainforests, wetlands, coral reefs, and rivers. The climate is tropical with hot and humid temperatures and moderate temperatures in the inland regions which are on a higher elevation.
With so much variety in terms of its topography, vegetation, flora, fauna, and natural resources, Jamaica is a tourist country that attracts many tourists. An average of 4.3 million tourists visit per year to enjoy its beauty and its attractions.
Check out this Caribbean travel guide that covers some of the top things to do in Jamaica and to enjoy all of its natural treasures: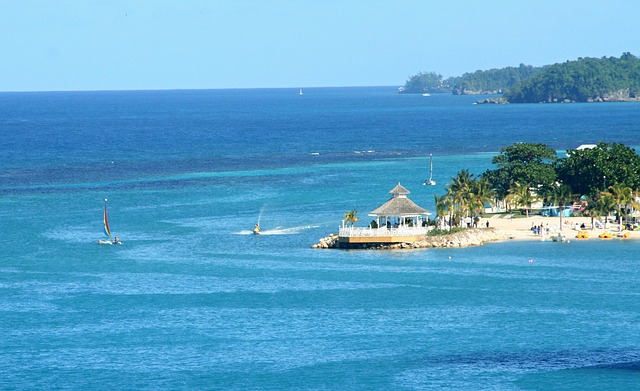 The Bob Marley Museum is located in Kingston and was converted as a museum and thrown open to millions of Bob Marley's fans by his wife, Rita Marley. The museum which was his home truly brings to light his saying that, "every little thing will be alight." This tour which is inspired by the country's famous and native Reggae music showcases different tours centering around the legendary singer such as "one-love tour, making of the music tour, and Bob Marley Home Tour.
A visit to this lagoon located in Falmouth is a must-do sight where one can see glowing waters due to the presence of dinoflagellates which are microorganisms responsible for this glow. The water here is the waters of the confluence of Martha Brae River and the ocean. This is a rare find in Jamaica apart from three other locations the world over. Taking a tour of Luminous Lagoon is one of the top 10 things to do in Jamaica Falmouth.
Fort Charles is located in Port Royal where a visitor can take a guided tour by a very knowledgeable curator of the museum. Here one can learn about the history and people of this Jamaican village which is close to Kingston Harbour. The fort was built by the British in the mid-1600s after the island was invaded by them. This fort was an integral part of the defense system during war times and to this date, there are cannons around the fort.
The Blue John Crow Mountains National Park
The Blue John Crow Mountains National Park is a UNESCO World Heritage site and the only national park in Jamaica. The park is located between Portland and Saint Thomas borders. Visitors to the park will enjoy the lush terrain, vibrant wildlife, and crisp clean air. The Blue John Crow Mountain is at a height of 2256 meters and there are activities such as mountain climbing and enjoying great views from its height. Visitors would enjoy swimming beneath beautiful waterfalls and exploring coffee plantations.
Dunn's River Falls is a beautiful attraction while visiting Jamaica and is located in Ocho Rios. Many beautiful waterfalls flow over the limestone ledges and fall into the ocean. For an adventurous tourist, one can take a hike along the waterfalls. Another attraction here is to enjoy swimming in the natural pools that are formed at the base of the waterfalls. A very refreshing feeling indeed, you can spot a natural private pool here. Taking a dip and doing swimming is one of the fun things to do in Jamaica Ocho Rios.
The Dub Club is an amazing music club in Kingston that is opened on Sundays. Many visitors from across the world visit this club where one can learn about Reggae music, how it originated in Jamaica, and all about the popular Rastafarian culture (a religious and political movement that started in the 1930s, a combination of Protestant Christianity and a pan-African political movement). The love for music and the amazing views of Kingston by night brings people together here at the club. The underground jam sessions and a unique Jamaican experience are what one can enjoy at the club.
Boston Bay is a true surfer's paradise located in Portland. One can use their surfboard and hit the waves here or lie back on the bay and take in the sights and sounds of the surroundings or better still enjoy culinary delights in a seaside Caribbean restaurant. For surfers, the best time is between June to December, which is also the rainy season. New surfers can take up surf lessons here and also hire surfboards for rent.
Kool Runnings Adventure Park
This adventure park is Jamaica's largest water and adventure park located in Negril and will surely enhance the excitement during one's vacation. The park is open Tuesdays to Sundays from 10 to 5 pm. It closes for its weekly off on Mondays. Both kids and adults will like all the fun activities here at the park. Many activities such as a wave pool, canoeing adventure, river rafting, or indulging in some paintball action. One can also enjoy kayaking, outdoor laser combat, and go-karting which are some of the best things to do in Jamaica Negril.
The Hip Strip is located in Montego Bay and is considered the "heart of Montego Bay". Tourists will enjoy the beat and rhythm of Reggae music, the local music from the bars, the restaurants, and shops that are open both day and night. Tourists in the evening can enjoy the local drinks, learn some Jamaican dance steps and moves, at the most happening clubs in Montego Bay. One can also enjoy the beaches here which are action-packed even during early mornings thereby making it one of the top things to do in Jamaica Montego Bay.
While in Jamaica a visit to the Dolphin Cove in Ocho Rios is a must-do activity. Imagine the thrill and experience of swimming with dolphins, sharks, and stingrays and learning about these species at close quarters! Of course, the highlight here is the opportunity of swimming and playing with the dolphins, considered as a best friend of the ocean to human beings. Dolphins are very intelligent, funny, and very lovable, so tourists will enjoy this super experience which is also one of the fun things to do in Jamaica with kids.
The Caymanas Golf Club is located 20 minutes away from Kingston by drive. It was opened in 1957 and to this day attracts both fresh and experienced golfers from across the world. This best Caribbean golf course has an 18-hole course its own Golf School, a clubhouse, chipping green, pro shop, and driving range are some of the top Jamaica tourist attractions and things to do.
Standing Spring Coffee Tour
The Standing Springs Plantation in New Castle offers very interesting coffee tours as one trek into the Blue Mountains along with Price-Smith, the plantation's founder and owner. Though the plantation has been in existence for over 100 years, it has recently been established as a coffee grower and distributor. A visitor can take either a 2-hour brief tour or a 4-hour extensive tour. During the tour, one can roast the coffee themselves and also go home with samples. The tour is operational from Mondays to Saturdays from 8.30 to 4.30 in the evenings.
The Tryall Club Golf Course at Montego Bay is a popular golf course. It has successfully hosted many golf championships and has become a good vacation spot now. Tryall Club is a good golf course with all facilities, suitable for all age groups and different levels of golfers. It has an 18-hole par-71 championship green and the beautiful Caribbean backdrop is a good setting and one that visitors will find amazing and beautiful.
Devon House is located in Kingston and is a significant landmark to both Jamaican and Caribbean people. It is a significant monument that is a heritage building for all. This beautiful landmark was conceptualized by George Stiebel, the first black millionaire on the island. The house has a good mix of the Caribbean and Georgian architecture, beautiful antique furniture, and some pieces that were recreated. The important feature of this beautiful structure is its very striking green lawns. This national monument is maintained by the Jamaica National Heritage Trust which ensures it is preserved and well taken care of for several generations to come.
What's next?
Jamaica is thus truly a paradise in the Caribbean region with so much to see and imbibe. The land of Reggae music and dance has so much to offer. Being the biggest island in the region, Jamaica offers variety in terms of its culture, music, food, and language which are the major attractions. One can enjoy the vacation here by visiting many interesting places or relaxing at the many resorts with all facilities, visiting museums, take refreshing swims at beautiful waterfalls, visiting beautiful lagoons, enjoying perfect beaches, and exploring ancient forts. This would be a vacation that will be a lifetime experience and good memories that will have long-lasting positive effects.
Tourists taking a Jamaican vacation will not be disappointed and will enjoy all its activities, beautiful tourist spots, music, and its night clubs which is the center for all fun and joy a vacation here promises. Now you know what to do in Jamacia, come and indulge in that Jamaican experience! Browse through our America travel guide to discover some popular places to visit near Jamaica.
About Author: Anjana Samuel is a professional writer who writes down her travel experienced through interesting travel blogs.