People are drawn to the appeal of the most amazing mountain resorts in the world for a multitude of reasons, and their importance transcends mere vacation destinations. These resorts detach from the hectic pace of city life and immerse oneself in the serenity and magnificence of nature's grandeur.
Towering peaks, pure mountain air, and expansive views combine to create a healing haven that revitalizes the body, mind, and soul. These mountain resorts set you getting back in touch with nature, whether it's the rush of skiing down powdery slopes, the peace of hiking through verdant paths, or the simple pleasure of stargazing. Check this guide and plan today this trip might be responsible for your well-being.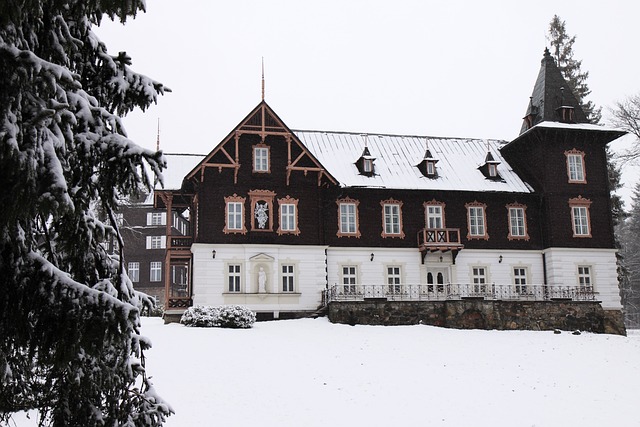 Best Mountain Resorts in the World
Explore the world's incredible mountain resorts, where the beauty of nature and opulent comfort perfectly meet. Here are the top mountain resorts you must visit that offer an unforgettable blend of adventure, serenity, and awe-inspiring landscapes:
Amangani, Jackson Hole, Wyoming, USA: Poised atop the dramatic cliffs of the Grand Tetons, Amangani presents a haven of modern luxury with panoramic views, world-class skiing, and an intimate connection to the rugged wilderness.
Four Seasons Resort Whistler, British Columbia, Canada: Surrounded by the stunning landscapes of Whistler's mountains, this resort offers unparalleled skiing, year-round outdoor activities, and sumptuous accommodations in a cozy alpine setting.
Matakauri Lodge, Queenstown, New Zealand: Overlooking the picturesque Lake Wakatipu and the Remarkables Range, this boutique lodge blends luxury with breathtaking natural beauty, providing an idyllic escape on the other side of the world.
Chedi Andermatt, Andermatt, Swiss Alps, Switzerland: Combining Alpine tradition with modern elegance, this resort offers impeccable service, world-class skiing, and a spa that soothes the senses against the backdrop of the Swiss Alps.
The Little Nell, Aspen, Colorado, USA: At the base of Aspen Mountain, this refined resort offers access to world-renowned slopes, cultural attractions, and an après-ski scene that complements its luxurious accommodations.
Aro Hā, Glenorchy, New Zealand: More than a resort, Aro Hā is a wellness retreat nestled in New Zealand's Southern Alps, providing guests with transformative experiences, wellness programs, and stunning natural surroundings.
Le Chalet Zannier, Megève, French Alps, France: Exuding the charm of a traditional Alpine chalet, this intimate retreat offers a serene atmosphere, Michelin-starred dining, and easy access to the slopes of Megève.
Top Mountain Resorts You Must Visit
Do you want to combine adventure, leisure, and stunning scenery? Look no further than these extraordinary mountain resorts, each of which offers a one-of-a-kind and unforgettable experience.
Mountain Resorts in Laurel
With pristine hiking trails, rejuvenating spa treatments, and cozy lodges, you'll find yourself captivated by the tranquility and charm of this hidden gem.
Laurel Peak Haven Resort: Perched on the foothills of the Montana Rockies, this resort offers a secluded retreat for nature enthusiasts. Immerse yourself in hiking, fishing, and wildlife spotting, followed by unwinding in cozy cabins that provide spectacular mountain views.
Majestic Pines Lodge & Spa: Indulge in the epitome of relaxation at this luxurious resort. With its world-class spa treatments, gourmet dining, and elegantly appointed suites, you'll be pampered while surrounded by the stunning beauty of the Laurel Mountains.
Mountain Resorts in Georgia
Georgia's mountain resorts provide an unexpected twist to the Southern charm you know and love. Explore the Blue Ridge Mountains, savor exquisite Southern food, and enjoy activities such as horseback riding and mountain biking.
Blue Ridge Summit Retreat: Tucked away in the Blue Ridge Mountains, this resort beckons with its rustic charm and modern amenities. Enjoy hiking through vibrant forests, savor local delicacies, and end your day stargazing from a private cabin's porch.
Southern Peaks Resort & Adventure Center: Experience Southern hospitality with a twist of adventure. This resort offers thrilling activities like zip-lining and ATV tours against the backdrop of Georgia's scenic landscapes, ensuring an adrenaline-pumping mountain getaway.
Mountain Resorts in New York
Explore the Adirondacks or the Catskills for beautiful scenery, luxury hotels, and a wealth of outdoor activities. Relax in leisure while admiring the splendor of New York's beautiful mountain ranges.
Adirondack Alpine Lodge: Embrace the allure of the Adirondacks at this lodge, where outdoor pursuits abound. Ski down powdery slopes in winter, paddle serene lakes in summer, and retire to charming lodgings that capture the essence of mountain living.
Catskill Crest Mountain Retreat: A haven for artists and nature enthusiasts, this retreat provides panoramic views of the Catskills. Engage in creative workshops, hike to hidden waterfalls, and relish farm-to-table cuisine in a serene mountain setting.
Mountain Resorts in California
Enjoy thrilling ski slopes, invigorating hikes, and a laid-back Californian lifestyle. Mountain Resorts in California offer a perfect blend of adventure and relaxation.
Sierra Summit Lodge: Set in the heart of the Sierra Nevada, this lodge caters to outdoor enthusiasts year-round. Revel in skiing, snowboarding, and snowshoeing during the winter months, and switch to hiking and mountain biking when the snow melts, all while staying in cozy alpine cabins.
Redwood Ridge Resort & Spa: Nestled near towering redwoods, this resort offers a unique blend of mountain and coastal experiences. Discover the tranquility of the California mountains, then venture to nearby beaches for a well-rounded escape.
Mountain Resorts in Utah
Utah's mountain resorts beckon with their world-class ski slopes, luxurious lodges, and a myriad of winter sports. When the snow melts, the mountains transform into a playground for hiking, mountain biking, and more.
Aspen Ridge Lodge at Park City: Explore the world-renowned slopes of Park City from this luxurious lodge. Whether you're skiing in winter or hiking in summer, the resort's modern amenities and breathtaking views ensure an unforgettable stay.
Alpine Haven Retreat: Discover a serene oasis amidst Utah's mountains, where luxury meets nature. Unwind in stylish cabins, take part in yoga retreats, and rejuvenate with spa treatments while basking in the splendor of the surrounding landscape.
Mountain Resorts in Colorado
One of the best things to do in Colorado is to visit mountain resorts. There are the finest mountain resorts that offer a harmonious blend of outdoor adventure and luxurious comfort. Here are the best mountain resorts in Colorado that beckon travelers with their alpine charm:
The Broadmoor, Colorado Springs: This iconic resort offers a perfect blend of adventure and relaxation, with opportunities for hiking, golfing, and exploring the nearby Garden of the Gods. Indulge in the resort's award-winning spa, exquisite dining, and picturesque views, making it a premier mountain escape.
Vail Mountain Lodge, Vail: Situated in the heart of Vail Village, this boutique mountain resort offers a warm and intimate atmosphere. With access to Vail Mountain's renowned ski slopes, guests can enjoy world-class skiing and snowboarding in the winter, while summer brings hiking, mountain biking, and outdoor concerts.
Whether you're seeking outdoor adventure, spa indulgence, or simply a serene escape, these destinations have it all.
Best Mountain Resorts in USA
Here are the best mountain resorts in the USA that promise unforgettable experiences:
The Broadmoor, Colorado Springs, Colorado: Surrounded by the Rocky Mountains, The Broadmoor offers a harmonious blend of outdoor adventure and refined luxury. From hiking and golfing to its renowned spa and fine dining, this resort is a haven for relaxation and exploration.
Four Seasons Resort Jackson Hole, Wyoming: Situated in the heart of the Tetons, this resort offers unparalleled access to skiing, hiking, and wildlife excursions. Enjoy rustic elegance, gourmet dining, and a range of outdoor activities.
Stowe Mountain Lodge, Stowe, Vermont: Nestled in the Green Mountains, this lodge provides a charming retreat with world-class skiing in the winter and hiking and mountain biking in the warmer months. Its elegant accommodations and serene spa ensure a rejuvenating stay.
Ritz-Carlton Lake Tahoe, California: Overlooking the stunning Lake Tahoe, this resort offers year-round adventures from skiing to kayaking. With luxurious rooms, fine dining, and a mountainside spa, it's a haven for relaxation.
Chateau Lake Louise, Alberta, Canada (accessible from the USA): While just across the border, this iconic Canadian resort deserves mention for its dramatic mountain setting, turquoise lake, and world-renowned hospitality.
Cheap Mountain Resorts in the World
Experience the charm of the mountains without breaking the bank. These budget-friendly destinations offer a blend of affordability and adventure:
Borovets, Bulgaria: Nestled in the Rila Mountains, Borovets is a wallet-friendly haven for skiing and snowboarding enthusiasts. Affordable accommodations, vibrant nightlife, and stunning scenery make it a popular choice.
Poiana Brasov, Romania: Set in the Carpathian Mountains, Poiana Brasov offers affordable ski slopes, cozy lodgings, and a relaxed ambiance, making it an excellent choice for budget-conscious travelers.
Lake Placid, New York, USA: This comes under the budget mountain resorts in the USA. Adirondack charm meets budget-friendly stays in Lake Placid. Enjoy hiking, water activities, and charming lodges against the backdrop of the picturesque Adirondack Mountains.
Manali, India: Surrounded by the Himalayas, Manali offers an affordable mountain escape with breathtaking views, cultural experiences, and a variety of outdoor adventures.
Zakopane, Poland: Tucked away in the Tatra Mountains, Zakopane provides budget-friendly accommodations and a range of outdoor activities, including hiking, skiing, and cultural exploration.
Bottom-Line
These exceptional mountain resorts provide a canvas for lasting memories and well-being, with scenery that inspires awe, an adventure that thrills, and a blend of calm and adrenaline. The most remarkable mountain resorts appeal as magical havens in a world where the attraction of natural beauty and lavish amenities come together.
These sites offer visitors a unique escape from daily life, allowing them to immerse themselves in nature's magnificence. These resorts provide a revitalizing haven for the mind, body, and spirit.