When it comes to lavish vacations, the top all-inclusive resorts in America stand out as remarkable havens of relaxation and luxury. These resorts provide an unequaled blend of convenience and magnificence, from the breathtaking coasts of Hawaii to the mesmerizing charm of the Caribbean.
They are nestled amid gorgeous scenery and offer a wide range of amenities to meet every need and desire. Exquisitely built rooms and villas provide a luxurious getaway, while a plethora of gourmet dining options tickle the taste buds with exquisite flavors. Guests are given a comprehensive experience that effortlessly integrates leisure and refreshment, with an assortment of inclusive activities ranging from water sports to wellness spas.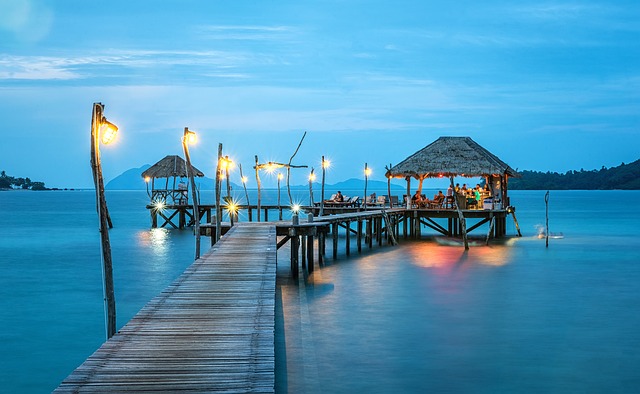 Top 10 Best all inclusive Resorts in America
The top 10 best American all inclusive resorts that will transport you to a world of luxury and leisure where all of your needs will be met:
Blackberry Farm – Walland, Tennessee: Nestled in the Smoky Mountains, this upscale retreat offers gourmet dining, outdoor adventures, and a serene ambiance.
Twin Farms – Barnard, Vermont: Experience a romantic getaway in this luxurious haven, known for its elegant accommodations, personalized service, and farm-to-table dining.
Rancho Valencia Resort & Spa – Rancho Santa Fe, California: Enjoy the Mediterranean-inspired architecture, world-class spa, and refined dining options in this Southern California gem.
Canyon Ranch – Tucson, Arizona: Immerse yourself in wellness and rejuvenation at this health-focused resort, which offers fitness classes, spa treatments, and healthy cuisine.
Nemacolin Woodlands Resort – Farmington, Pennsylvania: This sprawling resort boasts activities like golf, spa treatments, and outdoor adventures, making it perfect for family getaways.
Miraval Arizona Resort & Spa – Tucson, Arizona: Find balance and mindfulness through wellness programs, spa therapies, and immersive experiences at this acclaimed destination.
The Lodge at Woodloch – Hawley, Pennsylvania: Escape to tranquility with holistic wellness activities, gourmet cuisine, and serene surroundings in the Pocono Mountains.
C Lazy U Ranch – Granby, Colorado: Embrace the Western spirit with horseback riding, outdoor activities, and exceptional dining on a stunning Colorado ranch.
Travaasa Hana, Maui – Hana, Hawaii: Experience the beauty of Hawaii with cultural immersion, oceanfront views, and a focus on well-being in this tropical paradise.
Sea Island Resort – Sea Island, Georgia: Enjoy Southern hospitality, upscale amenities, and breathtaking ocean views in this historic resort known for its golf and beach experiences.
These top all-inclusive resorts in America offer a blend of luxury, relaxation, and unique experiences, ensuring an unforgettable escape that caters to your every desire.
Best US Resorts for couples
Here are the top 6 US all inclusive couples resorts designed especially for couples are the perfect place to indulge in romance and make priceless memories:
The Inn of the Five Graces – Santa Fe, New Mexico: Immerse yourselves in opulent suites adorned with unique textiles and art. This intimate haven offers spa treatments and a courtyard filled with charm.
Post Ranch Inn – Big Sur, California: Perched on cliffs overlooking the Pacific Ocean, this eco-friendly resort provides breathtaking views, luxurious treehouse accommodations, and a serene spa.
L'Auberge Del Mar – Del Mar, California: Set along the coast of Southern California, this seaside escape offers a blend of relaxation and adventure, with beachfront dining and luxurious spa experiences.
Amangiri – Canyon Point, Utah: Surrender to the tranquility of the desert in this minimalist oasis. Enjoy private plunge pools, stargazing, and excursions to explore the natural wonders.
Couples Sans Souci – Ocho Rios, Jamaica: Venture beyond US borders to this all-inclusive Jamaican resort. It offers stunning Caribbean views, private villas, and an emphasis on romance.
Little Palm Island Resort & Spa – Little Torch Key, Florida: Accessible only by boat or seaplane, this secluded haven offers privacy, overwater bungalows, and a tranquil beach setting.
These top US resorts for couples provide an idyllic backdrop for romance, with luxurious accommodations, intimate settings, and a range of activities that cater to your shared interests and desires.
Best US Resorts for families
Experience amazing family adventures at the top 6 US resorts that are designed with families' wants and requirements in mind:
Disney's Grand Floridian Resort & Spa – Orlando, Florida: Immerse yourselves in the magic of Disney with elegant accommodations, character dining, and easy access to the theme parks.
Great Wolf Lodge – Multiple Locations: This chain of indoor water park resorts promises endless fun for families. Enjoy water slides, interactive activities, and comfortable suites for all.
Hilton Hawaiian Village Waikiki Beach Resort – Honolulu, Hawaii: Discover paradise with a blend of family-friendly amenities, oceanfront views, and access to Waikiki Beach.
Mohonk Mountain House – New Paltz, New York: Nestled in the Hudson Valley, this historic resort offers a mix of outdoor activities, family programs, and stunning lake views.
Club Med Sandpiper Bay – Port St. Lucie, Florida: Embrace all-inclusive family fun, including sports, activities, and entertainment for all ages in a tropical setting.
Woodloch Pines Resort – Hawley, Pennsylvania: Perfect for multigenerational trips, this Pocono Mountains resort offers family-friendly activities, entertainment, and an inclusive atmosphere.
These top US resorts for families ensure that everyone, from kids to adults, enjoys a memorable getaway with a plethora of activities, comfortable accommodations, and opportunities for quality bonding time.
Top 10 US Resorts with Best Pools
Here's a list of the top US resorts that known for their exceptional pools:
The Venetian Resort: This luxurious resort boasts multiple pools, including the famous Venetian Pool Deck with its lush gardens, cabanas, and relaxing atmosphere.
JW Marriott Desert Springs Resort & Spa: With its stunning oasis-like pools, waterfalls, and even a gondola-filled waterway, this resort offers a unique and picturesque pool experience.
Fontainebleau Miami Beach: The iconic pool at this resort is renowned for its size and vibrant atmosphere, offering stunning views of the ocean and a lively poolside scene.
The Breakers, Florida: This historic resort features several pools, including the stunning main pool with its classic Mediterranean design and oceanfront location.
Wynn Las Vegas: The Wynn's pools are a true oasis, with beautifully landscaped surroundings, waterfalls, and even a semi-private European pool area.
The Ritz-Carlton, Laguna Niguel: Perched atop a bluff overlooking the Pacific Ocean, this resort offers multiple pools with breathtaking ocean views and luxurious amenities.
The Mirage: The Mirage features a tropical paradise-style pool area complete with waterfalls, lagoons, and even a dolphin habitat for a unique pool experience.
Terranea Resort, California: This coastal resort offers several pools, including a stunning saltwater pool overlooking the ocean, providing a tranquil and scenic setting.
Gaylord Opryland Resort & Convention Center: Known for its indoor atriums and botanical gardens, this resort features multiple indoor and outdoor pools with a distinct and charming atmosphere.
All-inclusive Resorts in South, North, and Latin America
Certainly, here are the top 5 all-inclusive resorts in each of the regions: South America, North America, and Latin America:
Best all inclusive Resorts in South America:
Belmond Hotel das Cataratas – Foz do Iguaçu, Brazil: Embrace the awe-inspiring Iguazu Falls from this elegant Brazilian retreat. Savor gourmet dining and the luxury of staying within a national park.
Inkaterra Machu Picchu Pueblo Hotel – Machu Picchu, Peru: Immerse yourself in the mystical world of Machu Picchu while enjoying a luxurious Andean escape.
Awasi Atacama – San Pedro de Atacama, Chile: Experience the desert's magic at this exclusive lodge, offering private tours and personalized service in the Atacama Desert.
EcoCamp Patagonia – Torres del Paine, Chile: Discover sustainable luxury with geodesic domes that allow you to experience the breathtaking beauty of Patagonia.
Las Balsas – Villa La Angostura, Argentina: Embrace Patagonian elegance and tranquility with lakeside views, gourmet dining, and personalized experiences.
Best All inclusive Resorts in North America:
Grand Velas Riviera Maya – Playa del Carmen, Mexico: Immerse yourself in Mexican luxury with oceanfront suites, gourmet cuisine, and rejuvenating spa treatments.
The Grand at Moon Palace Cancun – Cancun, Mexico: Enjoy a family-friendly paradise with luxurious accommodations, entertainment, and access to water parks and golf courses.
JW Marriott Los Cabos Beach Resort & Spa – Los Cabos, Mexico: Experience Baja California's charm with ocean views, exquisite dining, and an infinity pool overlooking the Sea of Cortez.
Excellence Playa Mujeres – Cancun, Mexico: Delight in adults-only luxury, gourmet dining, and a serene beachfront setting at this exclusive resort.
Hyatt Ziva Cancun – Cancun, Mexico: Ideal for families, this all-inclusive gem offers a stunning beachfront, activities, and an array of dining options.
Top Best Resorts in Latin America:
Secrets Papagayo Costa Rica – Papagayo, Costa Rica: Escape to this adults-only haven in Costa Rica, where lush surroundings, white sand beaches, and endless amenities await.
Royalton Antigua Resort and Spa – St. John's, Antigua: Experience Caribbean elegance with luxury suites, gourmet dining, and stunning beaches in this all-inclusive paradise.
Beaches Turks & Caicos – Providenciales, Turks and Caicos Islands: Ideal for families, this resort offers a wealth of water activities, family entertainment, and pristine beaches.
Sandals Grande St. Lucian – Gros Islet, St. Lucia: Discover a romantic sanctuary with overwater bungalows, luxury amenities, and breathtaking views of the Caribbean Sea.
Iberostar Selection Rose Hall Suites – Montego Bay, Jamaica: Immerse yourself in Jamaican beauty with spacious suites, a private beach, and an array of dining options.
Final Takeaway
These top all-inclusive resorts across America offer a remarkable blend of luxury, relaxation, and unique experiences. From romantic getaways to family adventures, each resort provides an idyllic backdrop for unforgettable memories.
Whether you seek breathtaking pools, serene landscapes, or a taste of cultural charm, these resorts cater to every desire for an exceptional escape.