Thinking of packing your bags and traveling to an offbeat place? You got all backed up. What better than ringing in some hilly chimes and chilling in wild and as we speak of this, Alaska is one of the top-rated destinations we have. Whether those are the best things to do in Fairbanks Alaska or any other location, you will find everything in the state.
So, here are some of the top things to do in Alaska as soon as you plan to reach there. Make sure you don't miss any!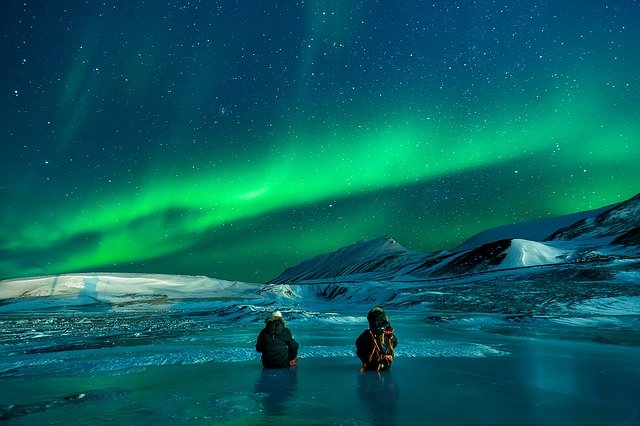 Northern lights for the wonder wanderers:
A night sky for lurking into tranquil and bliss?
Well, it's about something more than stars for you here. 'Northern lights' are one of the most splendid features of Alaska, offering the tourists a pleasant experience in every way. Fairbanks, one of its main cities, is one great spot to view the Northern lights or Aurora. From getting pre-alerted information regarding the northern lights or the 'auroras' to making you aware of it even while you are asleep, it's made sure you don't miss it at any cost. Other famous spots or places to view northern lights are Seward, Girdwood, Anchorage, Juneau, Nome, and the list continues. Have a memorable gazing time at the auroras which is one of the top things to do in Anchorage Alaska with your friends or family.
A Shuttle bus for a scenic treat:
Want to satiate your soul by just being around nature?
Here's a go to place for the same in Alaska!
All you need is to catch a shuttle bus and just ride along the Savage River in 'Denali national park' located in the core center of Alaska, to explore nature's wonders in various forms, be it animals, greenery or sceneries in store. To add on, you've got options like rafting, camping and hiking to just get a better and wider view of the beauty around, in an adventurous way.
An icy feast for the eyes:
A 'water' bee and 'snow-driven'?
We've got you covered, as you can soothe yourself with glacial cold, as well as 'meet and greet' the marine inhabitants. Hop onto a boat or rent a kayak, go dive in the icy world of 'Kenai fjords national park', situated at the Kenai peninsula. Furthermore, you can even let your feet trail towards the huge Harding icefield, to get a broader view of the glacial flows.
Keen to experience the real Alaska and it's roots?
'Talkeetna' is the place you ought to be at!
Rooted with the historic branches, this town is located at the feet of Denali mountain. From flightseeing the entire Denali region, camping by the Byers lake, having the famous Talkeetna spinach bread, tasting birch syrups from locally extracted birch tree sap, to relishing the delicacies made using the local ingredients at pretty cafes, you'll surely have a time worth cherishing!
Holding on to what anchors:
All about getting culturally enriched and just anchor through?
You got to visit 'Anchorage', Alaska's biggest city, all smothered by the Chugach mountains.
This place is true, what you need to snug into, to just have a ride of experiences. From pedaling and trailing through the anchorage shoreline on a bike, having a 'fish-o-time' by savoring the anchorage famous 'salmon', tramming through the Alyeska tramway, catching sight of a bore tide by the Seward highway, watching northern lights at night, to enjoying a sunset at the flattop mountain and viewing the anchorage skyline, there's actually a lot in store of what this city has to offer! All these reasons make it one of the unique things to do in Seward Alaska that you must add to your itinerary.
Interested in traversing onto a lonely, yet a serene path?
'Dalton highway' should be your call. Extending towards the farther northern end of Alaska and ultimately concluding into the Arctic circle, this highway is definitely a vibe for travelers who crave an 'off-the-buzz' kind of time and travel. Also, Northern lights are Alaska things to do here, enough to make it worth adding to your visit list!
On the tracks, get set and go:
Fond of train journeys and just to drift along with the surreal sights through the windows?
'Alaska railroad' has got your back. Just sit back and enjoy the journey, covering the major portions of the beautiful Alaska that can be accessed through a train. Beginning with anchorage, it also takes you through many main spots of attraction such as Seward, Girdwood, Denali national park, Talkeetna and various others, just to keep you intrigued about how serene Alaska is!
Dwell into the natural art:
Like being 'Artsy' and got a thing for aesthetics?
'Homer' can be the home you fathom, artistically. It's got those spell-bound panoramic views, musical tones and silent yet, some spectacular drama to its core. From mighty Glaciers to snow mountains, blue bays to life in the wild, it's a land that has a vibe of its own. If you are in search of doing activities in a zone that's a bit apart from the common spots, 'Homer spit' should be your choice. Situated at the southern head of the Kenai peninsula, it further extends to Kachemak bay surrounded by a wild park, providing you, even more, to explore along! If you are searching for some of the best things to do in Homer Alaska then you should add this activity in your itinerary.
An island for a tranquil drive :
A city away from all the hush?
'Sitka' is what we are hinting at!
Located at the Southern bottom of Alaska, it's actually a mini world of its own. It's grounded on Baranof Island by the Pacific Ocean in the west. Wild and lush forests abuts the island, making the visit even worthwhile. Not forgetting to mention, Air or sea routes are only means to reach here, so for this spot, you need to let go of foot trails or long drives. On the note of habitation, the Island consists of a few buildings, shops, and eateries. Just a reminder and also to emphasize, 'away from the hush'!
How about surfing a little and some beachcombing?
'Yakutat', a village which is actually a borough, is the spot famous for the above-mentioned activities. Apart from salmon hunting and mighty glaciers, you shall be amused if you have a knack for collecting interesting beachy stuff such as sea glass and seashells. To add on, waves along the beaches of Yakutat serve to be high enough for some fun surfing. It shall surely be a time of your lives thereby making it one of the fun things to do in Alaska in July.
For an old soul that's ready to stroll:
A vibe for some retro style architecture and narrow rustic looking streets?
'Juneau' can totally be your vibe!
It's the capital city of Alaska, which in itself is enough to grab attention. Snugged by Gastineau Chanel, Mount Roberts and Mount Juneau, this city offers activities like kayaking to the Mendenhall glacier and climbing to the ice caves and some quality whale watching.
Happy climbing and make it part of cool things to do in Juneau Alaska.
Desire to explore more in the shore:
Other than all the above-mentioned attractions in Alaska, Seward and Girdwood are also the major ones. Seward is situated at the base of Mount Marathon on the Kenai peninsula, whereas Girdwood is a small town bounded by the Chugach mountains. Furthermore, Seward is basically popular for Goldfields and dog sled trail used for the famous Iditarod sled dog race while on the other hand, Girdwood is famous for snow skiing, snowmobiling and many other fun activities.
What's next?
Alaska is mainly the land of snow peaks, huge ice glaciers and wide landscapes, all so dreamy and heavenly. Now that you have the mentions of all that you got to do in Alaska, so what's the wait for? Whether you are looking for the best things to do in Alaska in September, October or December, the above travel guide covers everything.
They say you ought to make it riveting and fun, to have some great memories down the lane. Alaska is one of the perfect blends of them both, and should definitely be your next go-to destination. To aid you in better guidance and an organized trip, travel agencies can be a good option for some great packages and on-track help. Now you know what to do in Alaska, wish you a trip to Alaska, super soon! Take a glance through the best places to visit near Alaska in our America travel guide.
About Author: Anmol Gupta is a writer by passion and a dentist by profession.